Article
The Manatee Players' Tarzan
Arts editor Kay Kipling reviews this high-flying production of the Disney musical.
[caption id="attachment_1709" align="alignnone" width="488"]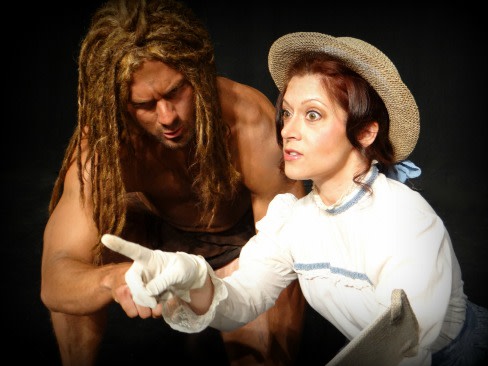 Brian Kleinschmidt and Sarah Cassidy in the Manatee Players' Tarzan.[/caption]
By Kay Kipling
Edgar Rice Burroughs' creation of Tarzan has certainly been a durable one over the past 100 years, inspiring more film versions and adaptations than you could shake a vine at. One of the highly successful ones was Disney's animated film of the 1990s, so naturally Disney moved to follow it up later with a stage musical, featuring more music by Phil Collins and a three-dimensional hero.
In some ways, the transition from animation to live action is an uneasy one in this show (featuring a book by David Henry Hwang that doesn't shed any new light on the characters and sometimes feels perfunctory). But you almost won't mind when watching the Manatee Players' buoyant production of Disney's Tarzan, which builds on the kind of artistic success the theater has been having with some technically demanding work.
That's evident from the very beginning of the evening, when we first experience the shipwreck that washes up infant Tarzan and his parents on the shores of the Dark Continent. Since those parents are quickly dispatched by a high-flying leopard that also steals the baby of ape mother Kala (MaryKate D. Glidewell) and her partner, Kerchak (David Downer Jr.), the young child is adopted by the grieving Kala and brought up by her despite Kerchak's protests that bringing this stranger into the ape family is bound to cause problems later on.
But she persists, and we soon see the young Tarzan (played winningly by Maverick Wolf), struggling to fit in with all of his ape "relations," moving low to the ground and swinging high above it as they do in the lush green jungle setting designed by Dan Yerman and lit beautifully by Joseph P. Oshry. (There's a lot of movement in this show, as you might expect, with energy and action being the hallmarks; credit Rick Kerby's direction and choreography and training by On the Fly Productions.) His friend, Terk (Miranda Wolf), is more willing to cross boundaries and try to protect him, like Kala.
But a grown-up Tarzan (played by a very fit-looking Brian Kleinschmidt) naturally seeks answers to why he's different—and may find some of them when Englishwoman Jane Porter (Sarah Cassidy) and her doting and slightly dithery father (Jack Harkleroad) arrive to pursue their scientific studies. It doesn't take long for the chemistry between Tarzan and Jane to develop, despite their language barriers. Maybe it's something about the loincloth.
The storyline is basic, complete with the needed villainous guide, Clayton (Ian Weir), who must laugh maniacally whenever announcing his evil plans re Tarzan and his ape family. And the songs, for the most part, do not stand out, although the cast all sings well enough, with particularly good renditions by Glidewell (You'll Be in My Heart), Kleinschmidt and Cassidy (Different, For the First Time).
The overall strong cast is lent pleasing support by musicians Scott Blum and Tony Bruno (playing those African-sounding percussions) and five vocalists under the music direction of Rick Bogner. You'll be impressed by the way Tarzan looks and sounds here, and the hard-working cast and crew well deserves the applause they receive at curtain.
Tarzan continues through Aug. 24 at the Manatee Performing Arts Center; for tickets call 748-5875 or go to manateeplayers.com.