Article
Theater Review: Florida Studio Theatre's "Taking Shakespeare"
Arts editor Kay Kipling reviews Florida Studio Theatre's production of "Taking Shakespeare."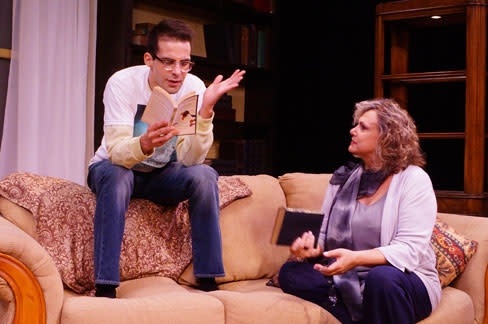 When you have a two-character comedy-drama involving a teacher and a student, you go in assuming that it's a case of seeing what each one will learn from the other, not just a one-way street. And that does seem to be part of the plan for John Murrell's Taking Shakespeare, now onstage in its U.S. premiere at Florida Studio Theatre's Gompertz Theatre.
But it's not always clear what Prof (Kate Alexander) and Murph (Graciany Miranda) are learning here, other than that Murph, a 24-year-old slacker and video game addict, is learning to appreciate Shakespeare. That's something he hasn't achieved so far in his classes at an unnamed university, but because he hasn't been "coming up to expectations," his mother (who happens to be the dean of humanities at the school) brings him together with the longtime instructor played by Alexander for some tutoring.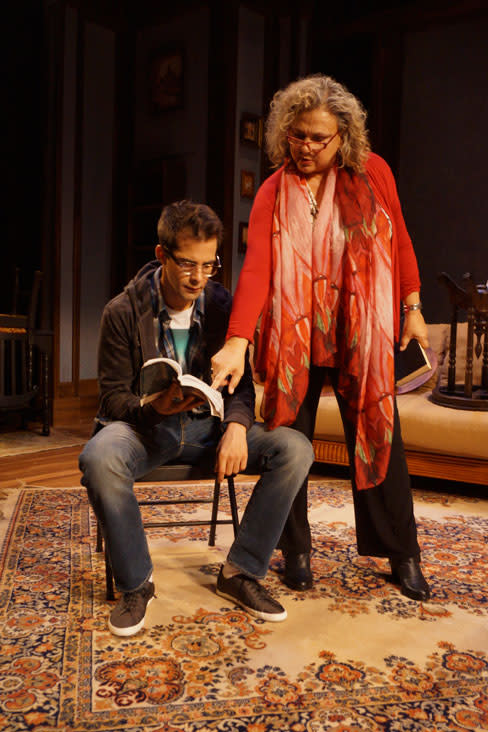 At first Prof resists; the challenge of walking Murph through Othello seems just too daunting, and indeed it is a slow process—one we ultimately find is too slow for the dean's liking. There is a lot of talk here, as you might expect, as the words on the page spoken by Iago, Othello and Emilia come to life and Murph, with wonder at his own understanding, warms to the task of deciphering what at first seemed to him nothing but rote iambic pentameter.
But I was never bored by the conversations, finding the taking apart of the text and the putting it back together as intriguing as I ever did in English class. What is more problematic here is the character of Prof, about whom we learn some things (she's a heavy coffee drinker, she once had a serious crush on her own college professor, and she hasn't always lived alone in the book-strewn apartment she stalks through) but not all (and perhaps that's intentional). In Alexander's portrayal, under Tom Key's direction, Prof is almost always at a high level of energy, alternately frustrated, passionate, on the move and even overly expressive, but we're not sure why she's so fueled (apart from that coffee).
Perhaps the performance could use more variation, or perhaps Alexander sees Murrell's Prof as being just that high-strung. At any rate, Miranda is a nice comic foil for all that steam emanating off her; he's totally believable in his laid-back delivery of a character lacking in self-confidence or direction, and when the two are at their most in synch with Shakespeare, it's enjoyable to behold.
Taking Shakespeare continues through Aug. 17; for tickets call 366-9000 or go to floridastudiotheatre.org.