Article
Second Annual SUP Sarasota Race Series Kicks Off Saturday
The second annual SUP Sarasota Race Series kicks off June 21 on Siesta Key Beach, promising family-friendly fun for all.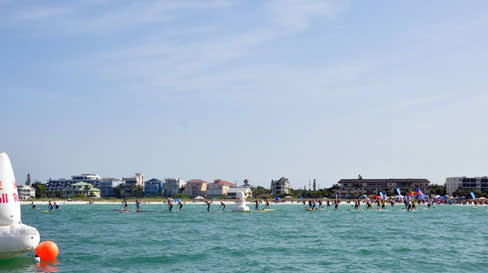 The second annual Sarasota Stand Up Paddleboard Race Series kicks off this Saturday, June 21, on Siesta Key Beach. With an array of vendor booths, live music, and an expected 150-200 racers, you can count on a beach day packed with fun activities and prizes for the whole family. Race director and founder of SUP Sarasota Rob Alfieri tells us what we can expect at this year's race series and shares his love for the laid-back water sport that is growing rapidly in popularity among Sarasota natives and tourists alike.
Why do you think paddle boarding is so popular, especially in Sarasota?
It's kind of like yoga—it strengthens the body, but it also really relaxes you. Plus, it's a great way to see the [area]. You can live here your whole life, go on the water and experience Sarasota in a totally different way.
What are your future plans for the SUP Race Series—anything big on the horizon?
After the series last year, Naples, Bradenton and Tampa [approached me] and said, "What can we do to have you do a race in our city?" So when we get the process down with all of the moving pieces that it takes to put on a race, we will make it bigger. It's something that, because it's so popular, could grow all the way up the east coast.
What can race participants expect?
We're trying to design a race that's spectator-, vendor- and racer-friendly. So you can go to Siesta Key Beach, hang out, go to vendor booths, get something to eat and just sit on the beach and watch all the racers come in and out. There's music, and there are things to do for families.
What's your favorite part of the event?
The awards ceremonies are really cool, especially with the junior racers. The kids love it, and I remember when I was a kid and how special it felt to get a trophy for something. I love watching the first-time paddler or a junior win an award and get recognition and feel really good about what they're doing.
Tell us a little about Suncoast Waterkeeper, which the events benefit?
Suncoast Waterkeeper is a national organization which is all about the preservation and conservation of our local waterways. They're a great fit with our race series because all of the sponsors and participants are environmentally conscious and into preservation, conservation and cleanup.
We'll also have Subaru's sponsored nonprofit, Leave No Trace, at the race. Before and after the event, Leave No Trace will go everywhere within a quarter mile around where we are and do trash pickup. They'll make sure everything is disposed of properly and recycled.
What is your main goal with the race series?
I love the water, I love where I live, and I love to spend time with my friends who have similar interests. So what better way to grow the stand up paddleboard community and market the place I live than to create a fun, family-oriented event where you can get tons of people together and do something that everyone enjoys, plus have a bit of competitive fun? I've been all over Florida, I've paddled around California, I've paddled in Hawaii, and no area has the flat-water ease of access and diversity of water that Sarasota has. I think it's a really special place, perfect for this type of race.
For even more fun things to do in Sarasota this summer, click here. >>