Article
Asolo Rep's Baritones UnBound
Arts editor Kay Kipling reviews this salute to the baritone voice.
[caption id="attachment_1669" align="alignnone" width="488"]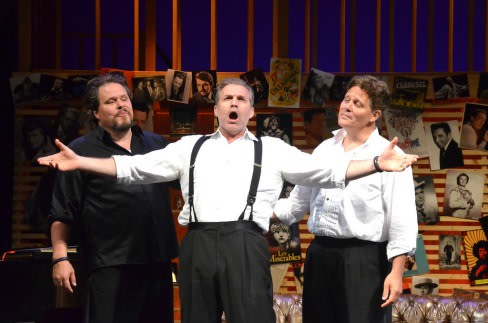 Mark Delavan, Marc Kudisch and Jeff Mattsey in Asolo Rep's Baritones UnBound. Photo by Gary W. Sweetman[/caption]
By Kay Kipling
You don't have to really care about the changing fortunes of the baritone singing voice to enjoy Asolo Rep's current production, Baritones UnBound: Celebrating the UnCommon Voice of the Common Man. But by the end of this entertaining evening saluting the baritone, you probably will have a renewed appreciation for the music of the ages that has relied on this voice register.
The show was conceived by Broadway singer-actor Marc Kudisch, who felt that the Great White Way has been seriously ignoring its baritones for the past couple of decades, after a good long run of hits before. Working with Merwin Foard, Jeff Mattsey and Timothy Splain to create this show, he and his fellow baritones, Mattsey and Mark Delavan, jovially explain to us what the baritone is and does, as opposed to a tenor or bass, and give us something of a historical lesson in its use.
That lesson ranges from the age of the Gregorian chant to early opera to later operetta and, eventually, Broadway, enfolding in its sweep quite a range of songs and composers, from Rodgers and Hammerstein to Mozart to Gilbert and Sullivan to Stephen Sondheim. And while all three talented actors onstage may be in the same vocal range, it's informative to see how, in color and quality, they all have such distinctive voices and deliveries (backed by a crucial fourth member of the team, pianist Splain, who also does a bit of surprise singing toward the end of the show himself, and by director David Dower).
The backgrounds for the production are simple; in the first act, three chairs and a backdrop that shows us composer dates, surtitles and the occasional image of a famous baritone. Act II changes the vibe to a man cave, where the three singers casually down beers while pointing out their admiration, vocally, for such singers on their back wall as Frank Sinatra, Robert Goulet, Bing Crosby and, yes, even Elvis Presley.
[caption id="attachment_1671" align="alignnone" width="488"]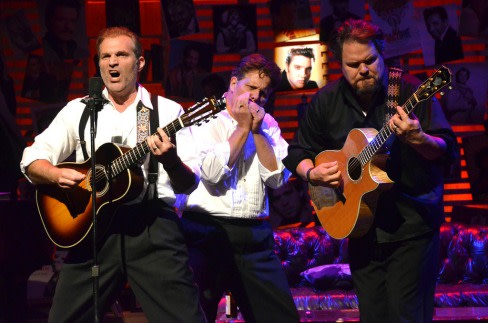 Kudisch, Mattsey and Delavan rocking out. Photo by Gary W. Sweetman[/caption]
With such a wealth of songs on the playlist, from the stirring Old Man River of Act I to the Carousel Soliloquy or stylings of Cole Porter on Night and Day in Act II, there are many highlights to be enjoyed here. Just a few: Delavan owning the pathos of Jud Fry on Oklahoma's Lonely Room, Kudisch sparkling on the lively Where Is the Life That Late I Led, from Kiss Me, Kate; Mattsey crooning a la der Bingle on White Christmas. But many of my favorite moments feature the baritones performing together, whether on a selection of Sondheim numbers (Pretty Women, Agony, It would Have Been Wonderful) that were originally duets but here work wonderfully as trios, or on a crowd-pleasing mash-up of Presley's Now or Never/O Sole Mio.
At two hours and 20 minutes including intermission, Baritones UnBound runs a bit longer than some similar "nonstory" shows, but the night I attended, it seems to have left the audience still wanting more. The show continues through June 29; call 351-8000 or go to asolorep.org for tickets.