Article
Theater Review: The Manatee Players' "My One and Only"
Arts editor Kay Kipling reviews the Manatee Players' "My One and Only."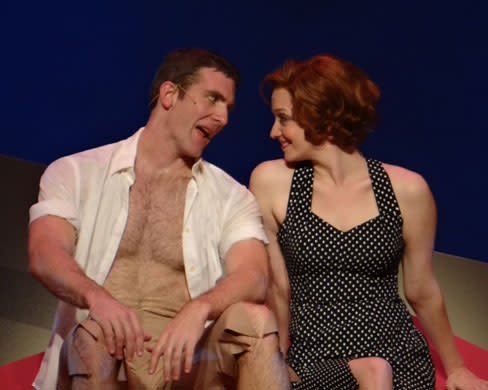 It's something of a surprise for a local critic when a community theater presents a musical you've never seen before, albeit one stocked with familiar Gershwin tunes that originally starred no less than Tommy Tune and Twiggy. Those are pretty good credentials, so one doesn't need to enter the theater with a fear factor.
In fact, My One and Only, now closing out the Manatee Players season, is not a vintage-era musical from the days of George and Ira, it's just rigged to look like one. In the early 1980s, writers Peter Stone and Timothy S. Mayer took some tunes from the Gershwin oeuvre—no-fail ones like I Can't Be Bothered Now, S' Wonderful, and Funny Face—and inserted them into a show that feels like 1927 (the time frame in which it's set) but with the benefit of taking a fond look back at some of the conventions of musicals of that time. It's an idea that's been done since (as with another Gershwin hit, Crazy for You), but My One and Only jumped on it first.
And so you have some essential elements here: the young lovers who fall for each other at first sight (she's a professional swimmer, he's an aviator hoping to make the first transatlantic flight, so they both have English Channel connections), a comic villain keeping them apart, a spunky sidekick to the lead, a gaggle of showgirls/swimmers, and a lot of dancing. Dancing is key to this show, as you might expect, and all the hard work of director/choreographer Rick Kerby and his cast pays off on big numbers like High Hat and Kicking the Clouds Away, as well as on the occasional duet, like the beachside S' Wonderful, with playful kicks of water towards the audience.
Fortunately the stars, Michael DeMocko as aviator Billy Buck Chandler (a Texan, natch) and Kathryn Parks as Edith Herbert (a Brit who's not as high-class as she tries to be), are up to the challenge of those dance steps, not always a given with community theater casting. It's a pleasure to watch them, and they're backed by a fairly big cast that includes an entertaining Brian Chunn as the aforementioned villain; Brittney Klepper, always fun as grease monkey Mickey; and not one but two male ensembles, The New Rhythm Boys (Mark Netherly, Hunter Brown and Scott Vitale) and the barbershop Ritz Quartette (Jay A. Poppe, Edwin Folts, Phil Croome and Joe Kane). Throw in a scat number by Beatrice Fletcher-Miller, showing Billy the ropes to winning his girl, and you've got a very engaging show.
There's also a nice and smoothly adaptable set and period costumes (by Ken Mooney) to thank, along with vibrant music direction by Aaron Cassette, backed by a four-piece orchestra. All in all, a strong finish to the Manatee Players' first full season in their new home.
My One and Only continues through May 18; for tickets call 748-5875 or go to manateeplayers.com.