Article
Westcoast Black Theatre Troupe's Bubbling Brown Sugar
Arts editor Kay Kipling reviews this musical set in Harlem.
[caption id="attachment_1644" align="alignnone" width="488"]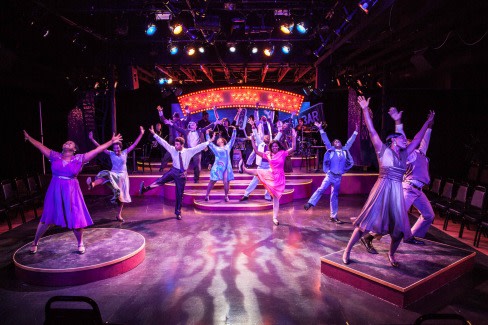 The cast of WBTT's Bubbling Brown Sugar. Photo DonDalyPhoto.com[/caption]
By Kay Kipling
Back in 1976, when Bubbling Brown Sugar first bowed on Broadway, awareness of the Harlem Renaissance of the 1920s and 1930s was probably limited, especially among white audiences. And it was rare for Broadway musicals to feature a primarily African-American cast.
Both of those things have changed in the years since, and while Bubbling Brown Sugar (now onstage as Westcoast Black Theatre Troupe's season closer) may be responsible for that to some extent, it also means that the travel back in time from 1970s Harlem to that famous period, which is the construct of the show, feels a little obvious now. We meet longtime entertainers and lovers John Sage (Horace Smith) and Irene Page (Ariel Blue), along with Checkers Clark (Earley Dean), in the early scenes of this musical revue, and soon they are giving both some younger black residents and a couple of white sightseers a tour back to the golden era of tunes from Sophisticated Lady to Ain't Misbehavin' to God Bless the Child.
It seems to take three or four efforts here for that premise to really take hold, and occasionally the artificiality of it may stop you in your tracks. It's best just to sit back and enjoy the songs, which are performed with great energy by the talented cast (although the volume could be dialed down on some of the ensemble numbers, given the closeness of the stage to audience members).
[caption id="attachment_1645" align="alignnone" width="488"]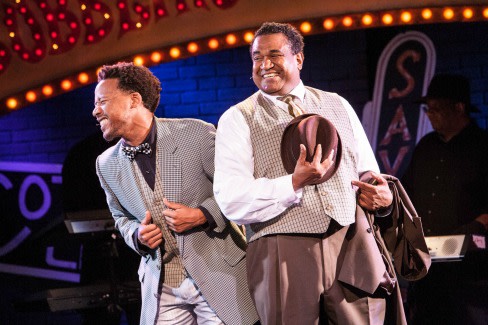 Earley Dean and Horace Smith in Bubbling Brown Sugar. Photo DonDalyPhoto.com[/caption]
That cast consists of both some very familiar WBTT faces and some newer ones, but even those we've seen before get a chance to display broader capabilities in this show. That's especially true in the cases of young stars Alyssa White and Christopher Eisenberg, who have both grown up a lot since we last saw them here. Eisenberg, who used to do Michael Jackson tunes for the company, now has a deeper, but still soulful voice on songs like I'm Goin' to Tell God All of My Troubles and Sophisticated Lady, while White soars confidently on the gospel sounds of His Eye Is on the Sparrow, leading the cast in one of Act I's more rousing numbers.
Earley Dean is always an engaging performer, and he's as lively and likable as ever on Pray for the Lights to Go Out and Jim Jam Jumpin' Jive. Blue gets to shine on the softer Memories of You, Smith is slyly suggestive on Honeysuckle Rose, and Tsadok Porter leads the ensemble with zest on the show closer, It Don't Mean a Thing If It Ain't Got that Swing, which amply demonstrates the choreographic skills of Donald Frison, who also excels in his own dance moves in the show. And WBTT newcomers Danae DeShazer and Brian Finnerty fit well into their roles as the couple discovering Harlem through "white" eyes—and loving it.
Bubbling Brown Sugar is directed by Harry Bryce, with musical direction by LaTerry Butler, and they score best when just getting full out into the period songs and dances. The production continues through May 11; for tickets call 366-1505 or go to wbttsrq.org.