Article
Venice Theatre's Five Guys Named Moe
Arts editor Kay Kipling reviews this lively Louis Jordan musical.
[caption id="attachment_1614" align="alignnone" width="488"]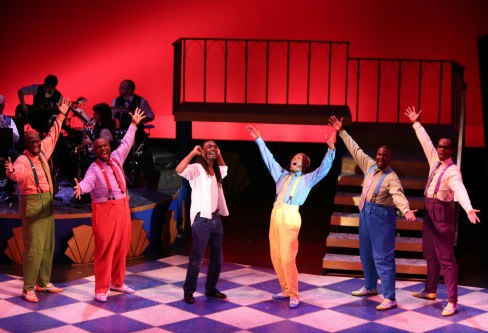 The cast of VT's Five Guys Named Moe.[/caption]
By Kay Kipling
The musical Five Guys Named Moe has turned up a few times over the past few years in local theaters, but it's no wonder why when you attend a performance like Venice Theatre's current production of the show, devoted to the songs written or made famous by Louis Jordan.
This version, directed and choreographed by Brad Wages, is highly energetic, engaging, and a great way to get the audience singing, swaying, clapping and even taking the stage themselves.
When I first saw the show some years ago, it bothered me a little that the storyline was so slim as to be nonexistent: a guy named Nomax, who's drinking hard following a fight with his girlfriend, suddenly hears five guys coming out of his radio—guys all named Moe—who try to give him some advice. That conceit is nothing more than a device on which to hang two dozen Jordan tunes, so sometimes the advice seems conflicting or unclear. But most people will have no trouble at all just gliding right over that and grooving along with the cast.
Act I consists mostly of ensemble numbers, and closes with the irresistible Push Ka Pi Shi Pie, which will have everyone with a pulse singing along with Four-Eyed Moe (Sean London Young) and his brothers, Big Moe (Edwin Watson), Eat Moe (Don Juan Seward), Little Moe (Kristofer Geddie) and No Moe (Brandon Michael Fleming). Act II gives the cast more time to shine on solos, like Fleming on Reet, Petite and Gone, Watson on Caldonia, or Geddie leading on Saturday Night Fish Fry. They're all talented, as is VT newcomer Bradley Small as Nomax, and they're decked out in colorful threads that help to act as identifiers, thanks to designer Stephanie Gift.
The mood is mostly upbeat, with occasional softer or more sober moments. But in general Wages keeps his performers on the move, with often inventive choreography that is a lot of fun and also works perfectly with the Jordan tunes. And the onstage band, led by music director Michelle Kasanofsky, can really jam, which helps to place us in the club setting of Act II.
There were a few minor sound issues the night I attended, but the performers seemed unfazed, and thoroughly at home with both their vocalizations and their very active physical demands. Five Guys Named Moe is a package you can't help but enjoy. It continues through April 19; for tickets call 488-1115 or go to venicestage.com.