Article
Sarasota Film Festival Opening Night
The 16th festival kicks off with Last Days in Vietnam, by Rory Kennedy.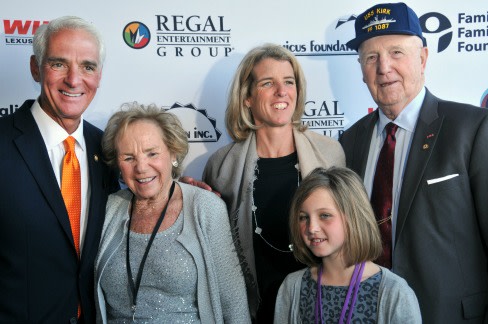 Charlie Crist, Ethel Kennedy, Rory Kennedy, Bridget Kennedy-Bailey, Paul Jacobs on the opening night red carpet. Photo by Rebecca Baxter
By Kay Kipling
The Sarasota Film Festival opened its 16th year Friday night with the screening of the documentary Last Days in Vietnam, by Rory Kennedy—welcoming the filmmaker, along with her mother, Ethel, and daughter Bridget, and former Florida Gov. Charlie Crist, to the red carpet beforehand at the Van Wezel.
Also on the carpet was Paul Jacobs, captain of the USS Kirk, a ship that played a prominent role in rescuing Vietnamese refugees in those last days, in April 1975. His presence, and that of other Vietnam veterans, was a reminder of just how tragic that time was.
We see in the film footage of the Kirk's rescue efforts; Kennedy was able to find images previously unseen to add to the more familiar ones of those chaotic days around the American Embassy in Saigon, as American forces were evacuated by helicopters from the roof, along with many South Vietnamese. Many, of course, were not rescued; a grim footnote to the film tells us what happened to some of them.
Kennedy and her crew interviewed not only well-known figures, such as Richard Armitage (a former Deputy Secretary of State who was a naval officer during the Vietnam war), but some, both American and Vietnamese, we've never heard of—ordinary people caught up in an extraordinary story, who often performed tremendous acts of courage.
The film received a standing ovation, and a Q&A session took place afterward, where Jacobs' feelings, still strong nearly 40 years after the events, clearly came though. The night was made even more emotional when a woman in the audience stood up and introduced herself as one of those refugees who fled Vietnam in 1975, at the age of 13.
The screening was followed by an opening night party in the Van Wezel Grand Foyer and on the lawn, where food and fireworks were provided. The latter were beautiful, but their noise seemed startling in the aftermath of watching a film where the real sounds of war still echoed.
The festival opening weekend continued with a UN Women reception honoring the 15th anniversary of Through Women's Eyes, along with screenings of many more movies at the Hollywood 20. More to come this week, as movies, parties and a conversation with actor Richard Jenkins are all scheduled. For up-to-date info, go to sarasotafilmfestival.com.