Article
Sarasota Film Festival: Ivory Tower
Documentarian Andrew Rossi takes a look at the high cost of college education.
[caption id="attachment_1630" align="alignnone" width="488"]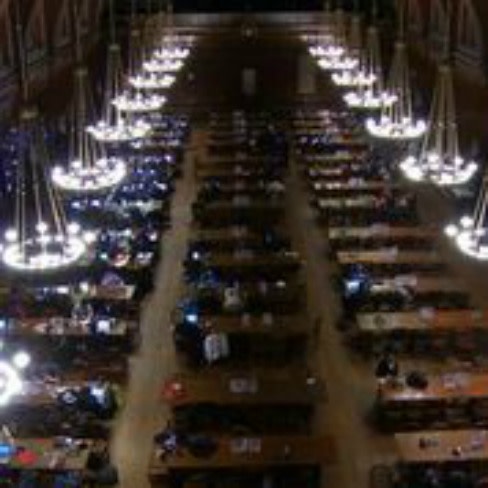 A still from Ivory Tower depicting college students at work.[/caption]
By Kay Kipling
Before going to see Andrew Rossi's documentary Ivory Tower at the Sarasota Film Festival, I thought it was a film about the trillion dollar college debt currently burdening students, their families, and the country. It is about that, but it's broader in scope, also touching on the background of higher education in general, how it's changing in today's world, and what the benefits and drawbacks of a college education can be.
As such, Ivory Tower can be at times shocking, as you see state university students partying like crazy while they and their parents are apparently accruing heavy tuition debt; informative, as when you see how experiments with MOOCs (online courses to the masses) have turned out badly in some cases; and perhaps a little hopeful, as when you hear a dedicated teacher speak about the worth of a liberal arts education, or see a group of students at New York's Cooper Union fighting to preserve the free education that school's founder believed in.
Along the way you also meet some highly committed young men from an all-male college in California's Death Valley, where labor and self-governance are part of the educational package, and some young women from traditionally black female college Spelman, where a sense of solidarity prevails. Much of the film's footage was shot at Harvard, that bastion of the Ivy League, which may be what many of us think of us as the ideal, traditional college educational space. We meet one young African-American male there, who's left behind a tough background in Cleveland and is struggling to catch up with his better-off classmates. He, and some of the other students you come to know here, are bound to touch the heart even as you get angry at some of the facts and figures Rossi presents about how tough it is for these millennial generation students to enter the working force and succeed.
On a lighter note, festival director Tom Hall made mention of a possible visit from a Mad Men star to tomorrow night's tribute/awards presentation at the Sarasota Opera House. Wonder who that might be…Peggy? (Elisabeth Moss, who's co-starring in festival film The One I Love)…Roger? (John Slattery, who directed Centerpiece Film God's Pocket)…most likely not Don (Jon Hamm), who doesn't have a movie in the line-up…stay tuned.