Article
Pianist Vijay Iyer Returns to Sarasota to Premiere New Work
Vijay Iyer premieres "Bruits," inspired by the state of Florida.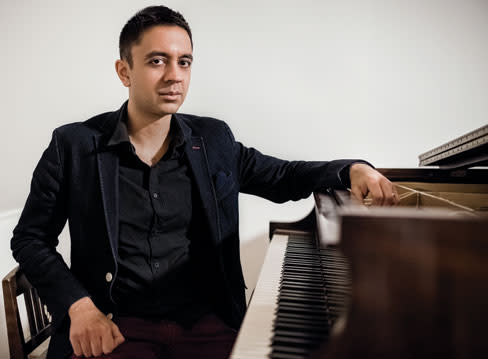 Composer, pianist, and recent MacArthur Genius Grant winner Vijay Iyer returns to Sarasota (where he has been a Hermitage Artist Retreat artist in residence and Greenfield Prize winner) to present the world premiere of his latest work, Bruits, as part of La Musica International Chamber Music Festival (running April 2-16, with Iyers' work set for April 10 at the Sarasota Opera House. Performing the piece will be pianist Corey Smythe and members of the Imani Winds quintet; call 366-8450, option 3, for tickets). We spoke with Grammy-nominated Iyer about that new work and his critically acclaimed career.
Q. Did you work on Bruits during your Hermitage stay?
A. The beginnings of it hatched there, although it's changed a lot since then. I work on a piece until the moment when I have no choice but to let go of it.
Q. What can you say about it at this point?
A. Well, it's about the fragility of the place [Florida], where sea levels are rising and there's the sense of continued proximity to something cataclysmic. That may be partly because when I was there in the summer of 2012, we had to leave [the Hermitage] because of a hurricane threat. And there was also this social and political turmoil associated with the state that I could never ignore, even while I was enjoying the enormous riches of the place.
Right now I'm immersed in the technical matters of the composition, but ultimately it has to be an emotional experience. I come from a math and physics background, but when I left that behind it was because I wasn't as concerned about creating order in the universe as I was about connecting with people.
Q. You've worked with a lot of different collaborators, in different styles, but is there an overall theme you can discern in your music?
A. There's just a kind of serial obsession with different things that I'm interested in, and different ways of exploring my relationships to the world around me. When I write a piece for a jazz trio, for example, it's very fluid, improvisational, with a lot of choices made in real time. When I write a piece for a chamber ensemble, it's really something for people to execute, but I still try to put some control in their hands as well, even if they are not improvising in the way of say, Charlie Parker.
Q. You're a self-taught pianist?
A. That just sort of happened organically. My sister's piano was in the house, and when she wasn't playing, I was. I played jazz in a high school ensemble, and then during my 20s I trained by apprenticing with other musicians.
Q. Which leads me to ask: What musicians have influenced you?
A. There are so many, but Thelonious Monk is my biggest influence. I listen to him all the time and have since the '80s. And I've actually had the privilege of working with a trumpeter/composer named Wadada Leo Smith, a pioneering innovator who's done some important work over the last 40 to 50 years. His 10 Freedom Summers is a massive cycle of work about the civil rights movement that finds creative ways to tell that story.
For more Sarasota arts news and reviews, click here to read Kay Kipling's "On Stage" blog. >>
This article appears in the April 2014 issue of Sarasota Magazine. Like what you read? Click here to subscribe. >>