Article
Florida Studio Theatre's Tom Jones
Arts editor Kay Kipling reviews this fast-paced version of the classic story.
[caption id="attachment_1640" align="alignnone" width="488"]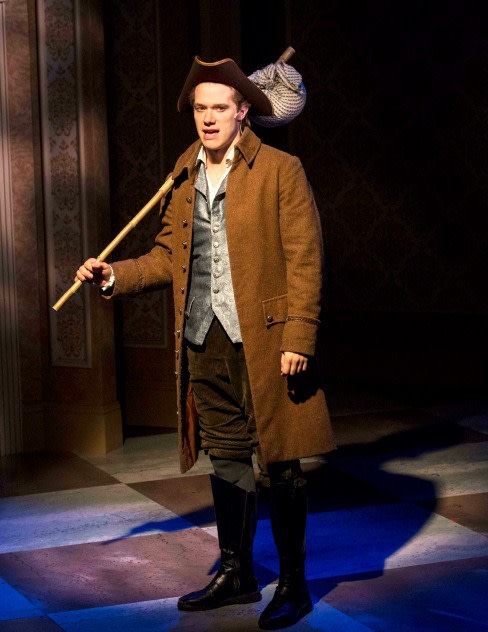 Matthew Goodrich as the titular hero in FST's Tom Jones. Photo by Cliff Roles[/caption]
By Kay Kipling
The task of adapting Henry Fielding's 800 or so page novel, Tom Jones, for the stage might be described in one word: daunting. But it didn't seem to intimidate playwright Mark Brown, who's pulled off similar jobs before, as with a previous Florida Studio Theatre production of Jules Verne's globe-spanning Around the World in 80 Days.
There, as with this premiere of Tom Jones on the stage of FST's Gompertz Theatre, Brown (and director Mark Shanahan) employ a handful of actors to portray a host of characters. Brown also strips the picaresque action of the novel down to its basics: Young Tom (Matthew Goodrich), a well-meaning but rather randy boy of uncertain parentage, loves Sophia Western (Faith Sandberg), but they are kept apart by her father (Howard Kaye) and Tom's nemesis, the treacherous and obnoxious Blifil (Bruce Warren), until the inevitable happy ending.
[caption id="attachment_1641" align="alignnone" width="488"]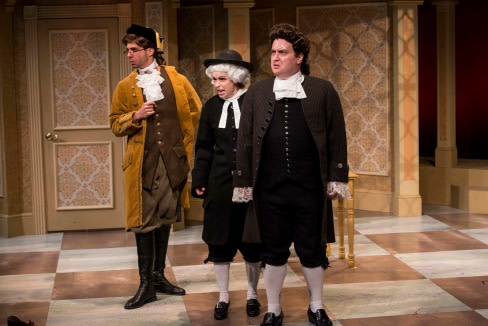 Graciany Miranda, Eileen Ward and Bruce Warren in Tom Jones. Photo by Cliff Roles[/caption]
Along the way, though, Fielding and Brown manage to make fun of almost every human foible there is: vanity, greed, intolerance, selfishness, hypocrisy, ill temper—you name it, and aside from the aptly named Squire Allworthy ((Ron Siebert), who has adopted Tom, there's someone in the play who exhibits it.
But this version of Tom Jones certainly isn't meant to be any kind of lesson on human nature. You get a pretty good idea of where the evening is headed when the very words "Tom Jones" initially summon up the image and songs of the famously sexy Welshman, to whom there are numerous references in the show. And the approach here is often Monty Python-esque, featuring shrill-voiced men in drag and a parade of non sequiturs in addition to some fast-paced running around and door slamming, which reaches the height of absurdity in an Act II scene rife with mistaken and ever-shifting identities.
The comedy grows a little strained at times, but in general Tom Jones is good, silly fun, with a cast adept at switching characters at the drop of a hat, altering age, gender, class and other descriptors successfully and entertainingly. At just about 90 minutes (plus intermission), the show makes short work of Fielding's original, but hopefully the 18th-century writer isn't rolling in his grave.
Tom Jones continues through June 1; call 366-9000 or go to floridastudiotheatre.org for tickets.