Article
Asolo Rep's 4000 Miles
Arts editor Kay Kipling reviews Amy Herzog's touching comedy-drama.
[caption id="attachment_1621" align="alignnone" width="488"]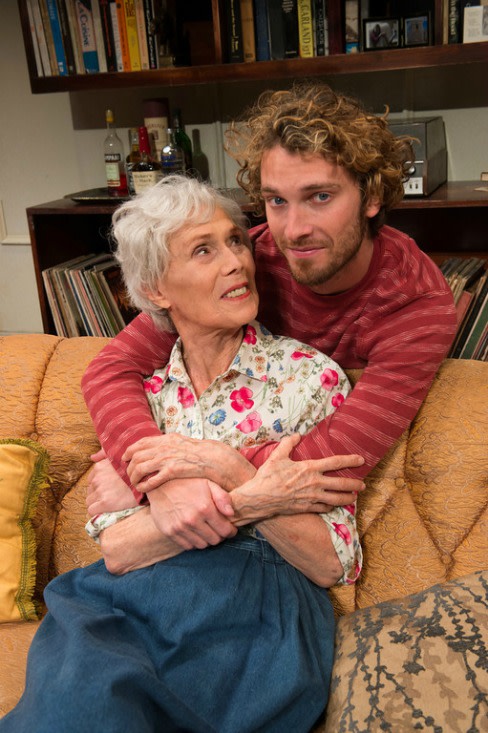 Lois Markle and Benjamin Williamson in Asolo Rep's 4000 Miles. Photo by Slaven Vlasic[/caption]
By Kay Kipling
If you go to see Asolo Rep's production of 4000 Miles (now on view at the Historic Asolo Theater) after reading some of the rave reviews of this Amy Herzog play in its New York versions, you may at first be puzzled by their ardor.
"The best play of 2012, hands down"…a funny, moving, altogether wonderful drama"—these are some of the accolades Herzog's play has received, which could lead you to think it's a piece of bigger, more dramatic event than it really is. On the contrary, 4000 Miles is a largely quiet, unassuming work centering on the relationship between young Leo (Benjamin Williamson) and his aging grandmother (Lois Markle) at a crucial point in both their lives.
Herzog's writing tends to the realistic, uneven, sometimes awkward way life really takes place. Conversations here don't end with a bang or a revelation; they frequently trail off into unresolved silences, and she doesn't deal in major dramatic realizations trumpeted by obvious emotions. Nevertheless, 4000 Miles is both touching and funny in its overall effect.
The play begins with the abrupt 3 a.m. arrival in Greenwich Village of Leo, who's been cycling cross-country from Seattle to New York with no apparent aim in mind, washing up, grubby and agitated, on the doorstep of his leftie-leaning (read: diehard Communist) grandmother, Vera. Left unsaid at the outset is why Leo has come here rather than go back to his home and immediate family back in Minnesota, but we do know that his relationship with his mother is problematic and that something traumatic happened on that long road trip.
[caption id="attachment_1622" align="alignnone" width="488"]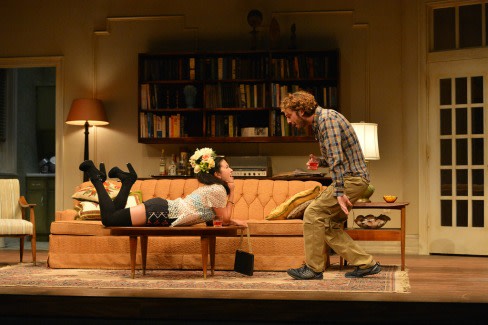 Lisa Dring and Benjamin Williamson. Photo by Slaven Vlasic[/caption]
On Vera's part, she's dealing with the inevitable ramifications of aging; at 91, she is hard of hearing, toothless and, most significantly to her sense of being, too often struggles to find the words she's trying to say. But while she and Leo haven't necessarily been that close, there are patterns in a grandparent/grandchild relationship that may be simpler or less fraught than those of a parent/child, and particularly with someone as outspoken as Vera, that may be just what Leo needs.
Markle displays the right feisty, unwilling-to-concede spirit as Vera, and she and Williamson have a comfortable rapport onstage. In general, Williamson keeps Leo likable enough for us to stay with him even during his more puzzling or unlikable behavior; he's especially impressive in the play's climax, where we do learn exactly what happened to him and his friend while cycling.
Filling out the cast of characters in 4000 Miles are Leo's sympathetic but firm ex-girlfriend, Bec (Maxey Whitehead), and, as what at first seems to be merely comic relief but turns out to be more, Lisa Dring as a Chinese-American student Leo picks up in an attempt to move past things. With her extra short shorts and extra high shoes, and her "out there" personality, she is funny, but she's vulnerable, too.
Marsha Ginsberg's set design fills to the letter the stage directions for a Greenwich Village rent-controlled apartment that "hasn't been redecorated since approximately 1968," providing a believable home for a committed activist like Vera, and Nick Kolin's lighting works to provide not only changes of daylight but of mood. Director Tea Alagic seems to have a direct line to what the playwright is doing in 4000 Miles, and it works.
So, don't go expecting fireworks. Count instead on an evening that may just feel like you are watching people you know as they reach a certain place on their journey.
4000 Miles continues through April 27; for tickets call 351-8000 or go to asolorep.org.