Article
Venice Theatre/Stage II's Underneath the Lintel
Arts editor Kay Kipling reviews this intriguing one-man play.
[caption id="attachment_1186" align="alignnone" width="488"]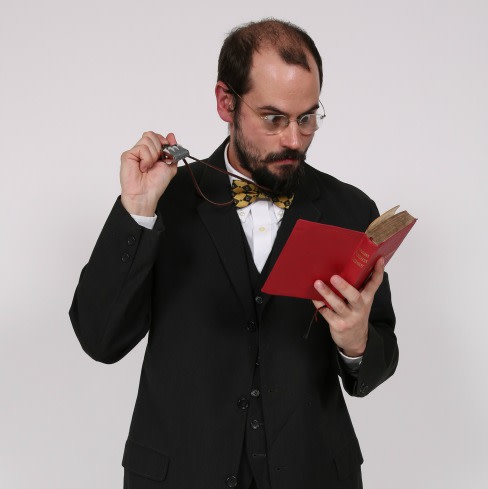 Jeremy Guerrero in Stage II's Underneath the Lintel.[/caption]
By Kay Kipling
Sometimes, under the crush of multiple play openings at this time of year, a hard-working critic can fall behind. That's why I've only now made it to see Venice Theatre's Stage II production of Underneath the Lintel, which opened March 13. (It runs through March 30). But I'm glad I didn't miss this one, which is something of a tour de force piece for one actor—in this case, Jeremy Guerrero.
He stars as a Dutch librarian in this Glen Berger play, one whose life has been circumscribed by his work in the confines of a stuffy establishment, with little hope of professional advancement. His private life is likewise bare, so it is believable that this lonely character would find himself drawn to a mystery triggered when an overdue book –113 years overdue—is slipped through the return box.
When our librarian bounds onto the stage, carrying a suitcase filled with what he calls "significant scraps" of evidence, he begins to lead us, the audience (with whom Guerrero frequently interacts), on a journey marked by such commonplaces as an unclaimed laundry ticket, a missing dog and a tape recording or two, as he pursues the trail of the man who deposited that book, a tattered Baedeker travel guide. Along the way he traverses the globe, as has his subject, eventually convincing himself (and perhaps us as well) that he may catch up with this "Wandering Jew" of myth—a man whose rejection of a suffering Jesus carrying his cross has led to his Flying Dutchman-like sentence.
It's an intriguing concept, and Guerrero, well into the run, seems energized by it, never slacking in his portrayal of a man possessed by the hunt. He's often humorous, occasionally touching (as when we learn more about his own life) and overall very involving as his tale unwinds. Berger's play is not just about the Wandering Jew, but about all of us, including the librarian, who question our lives and God's presence but want to leave some trace of our existence behind.
It's an admirable performance, aided by the varied pacing provided by director Peter Ivanov and the props—from a globe to a chalkboard to a pair of ragged pants—that Guerrero handles with dexterity. And at just under 90 minutes (with no intermission), it's a whirlwind tour through some curious pieces of history—or at least the imagination.
For tickets to Underneath the Lintel, call 488-1115 or go to venicestage.com.