Article
WBTT's Harry and Lena
Arts editor Kay Kipling reviews the company's world premiere musical.
[caption id="attachment_1152" align="alignnone" width="488"]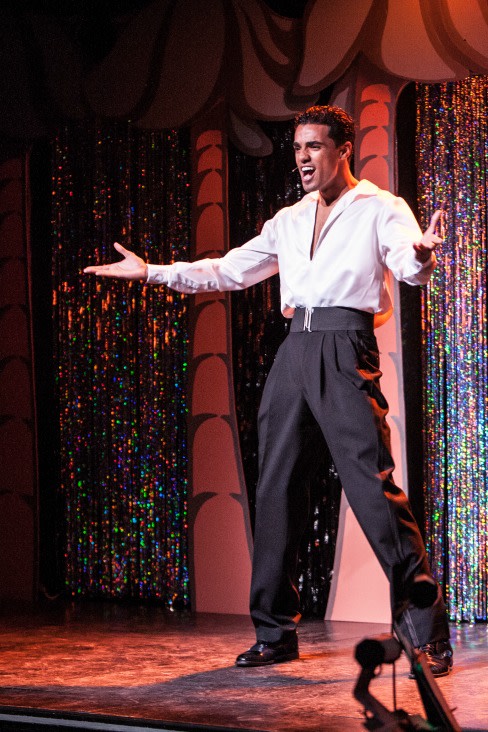 Michael Mendez in Harry and Lena. Photo by Don Daly[/caption]
By Kay Kipling
A stage show combining the songs and personalities of Harry Belafonte and Lena Horne seems like a natural for the Westcoast Black Theatre Troupe. After all, the two show biz icons did in fact perform together often, and were also both active in the civil rights movement, making them performers with truly something to say.
They don't say a lot of it in Harry and Lena, now onstage in a sellout show at WBBT's theater. (Yes, I'm sorry to say it's sold out, although there is a waiting list for tickets.) The emphasis is, understandably enough, more on their songs than their life stories. What little you do glean about their personal struggles or their places in the fight against segregation and discrimination is probably already pretty well known and could be found in a Wikipedia entry.
But director and creator Nate Jacobs is not so much after telling a story as putting together a show, one supposedly taking place at the "Palms of Bradenton" nightclub in 1950s Florida. And his lead performers, Michael Mendez and Lexie DeAnda, are likewise not about trying to imitate the vocal sounds or phrasing of the two stars, which isn't a bad thing. (Mendez does sometimes utilize a Jamaican accent on Belafonte's numbers.) They have strong enough voices and personalities of their own to engage the audience.
And that they certainly do, especially on the popular calypso tunes Belafonte made famous, like Banana Boat Song, Matilda and the conga-leaning Jump in the Line that closes the first act. Harry and Lena seems slanted more toward Harry than Lena, and those numbers and others demonstrate why; Belafonte just had more crowd pleasers in his repertoire.
[caption id="attachment_1153" align="alignnone" width="488"]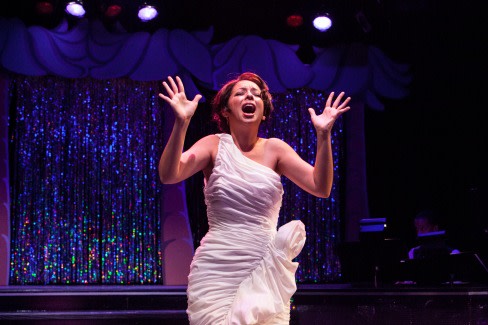 Lexie DeAnda as Lena Horne. Photo by Don Daly[/caption]
That said, DeAnda does of course get to deliver Horne's signature tune, Stormy Weather, which she does with power, as well as another torcher, The Man I Love, and the seductive Whatever Lola Wants, Lola Gets. She's a talented singer, and she and Mendez duet pleasantly on some standards like Let's Call the Whole Thing Off and Love Me Or Leave Me, too.
Often they're backed by a small ensemble made up of Victoria Byrd, Candace E. Culcleasure, Sheldon Roden and Joshua Thompson, who provide both vocal backup and some welcome, lively, never intrusive movement (choreographed by Jim Helmich to reflect different moods and song genres). And they're all lent outstanding support by musical director James Dodge II and his four-man band. (Let's give a shoutout to costumer designer Timothy Beltley, too, whose clothes range from Lena's glamour days to tropical island fun in style.)
But I've saved the best for last here, and that is Michael Mendez. Mendez has performed in several WBTT shows, starting while barely out of his teens (if that), and he's always been a likable presence onstage. But he is maturing into a more and more confident one, whose good looks, loose-limbed moves and way of interacting with the audience make him the real star of the show. It seems he's well on his way to a continuing career on the stage.
Harry and Lena continues through March 23, and again, it is sold out at this point. But if you want to pursue a ticket, try calling 366-1505 or visiting wbttsrq.org.