Article
Manatee Players' Beehive
Arts editor Kay Kipling reviews this 1960s musical revue.
[caption id="attachment_1160" align="alignnone" width="488"]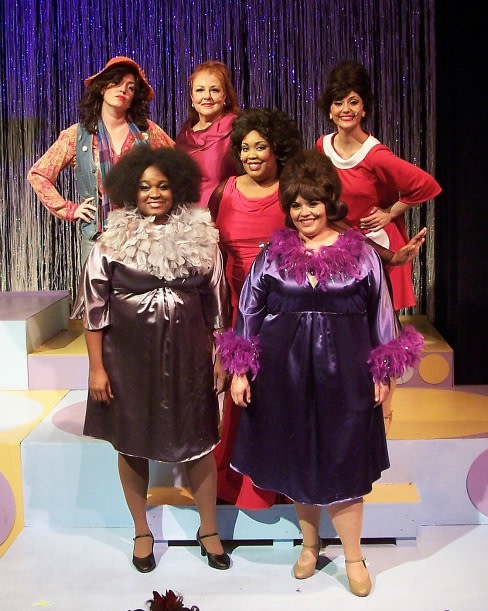 Alana Opie, Syreeta Banks, Helen Holliday, Ariel Blue, Noelia Altamirano and Briana Luzi in Beehive.[/caption]
By Kay Kipling
For baby boomers, it's sometimes a bit unsettling to watch one of the many 1960s musical revues that frequently pop up and realize that most, if not all, of the cast members were not alive in the '60s, or for that matter, the '70s. It makes sense, of course, and it's a testament of sorts to the staying power of a lot of the songs of the era; it's just a reminder of the passage of time.
With the Manatee Players' current production of Beehive, there's a host of songs from the 1960s, all originally hits for female singers, and the all-female cast is, again, mostly too young to remember any of them. Not a problem, though, as they and music director Berry Ayers and director-choreographer Kyle Turoff have done their homework on the sounds and moves of such groups as the Shirelles, the Supremes and the Shangri-Las, along with solo stars like Janis Joplin and Aretha Franklin.
You don't need to think of Beehive, which was created by Larry Gallagher, as any kind of history lesson, of course. While there are nods to the turbulence of the decade, especially in the mood-changing The Beat Goes On towards the end of Act I, mostly Beehive is about an innocent sort of fun, typified by tunes like One Fine Day, My Boyfriend's Back and Downtown.
The six-member cast, moving swiftly through a succession of wigs and costumes (kudos to the backstage dressers), takes us from a high school dance to a party featuring a pouting Lesley Gore (Helen Holliday), a perky Annette Funicello (Briana Luzi), a relentlessly upbeat Brenda Lee (Noelia Altamirano) and a boy-seeking Connie Francis (Alana Opie) to Woodstock, where Opie brings us Joplin tunes including Piece of My Heart and Ball and Chain. (She doesn't have Joplin's rough edge to her voice, but she does deliver a bluesy soulfulness.) Along the way we also hear Syreeta Banks doing the big-voiced Tina Turner justice on Proud Mary, Altamirano having a powerful moment on Janis Ian's Society'sChild, and Ariel Blue smokin' Franklin's feminist anthem, Respect.
There's some strong musical talent onstage, and the intimacy of the Manatee Performing Arts Center's Bradenton Kiwanis Theater, especially with the setup implemented for this production, lends itself to those in the seats getting involved (yes, there will be volunteers from the audience). There's not too much spoken dialogue in Beehive; just enough to remind viewers of a certain age of what it was like to be young and hopeful back in the day when music still spun around on funny vinyl things called records.
Beehive continues through March 16; for tickets call 748-5875 or go to manateeplayers.com.