Article
Asolo Rep's Philadelphia, Here I Come! (Again)
Arts editor Kay Kipling reviews this revised production.
[caption id="attachment_1157" align="alignnone" width="488"]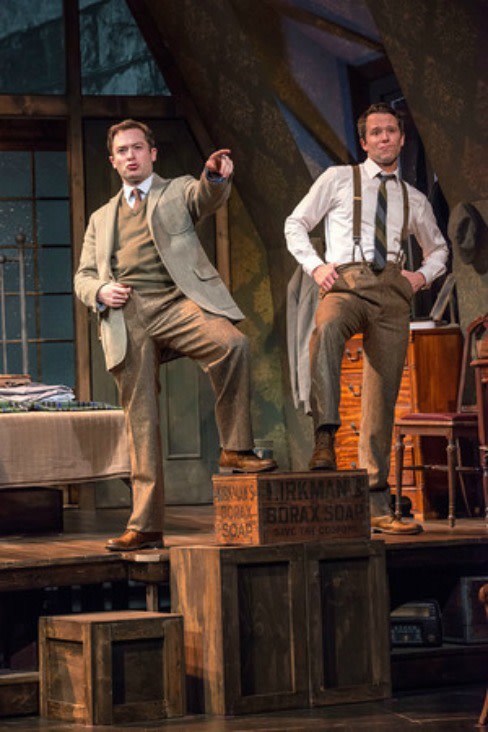 Bernard Balbot and Christian Conn in Asolo Rep's Philadelphia, Here I Come! Photo by Cliff Roles[/caption]
By Kay Kipling
Many of those in the audience at yesterday's matinee of Asolo Rep's Philadelphia, Here I Come! may not have been aware that they were seeing Version 2 of this Brian Friel play. While it was news of a sort that the first production of the work, which opened in January, ran into some trouble with the playwright due to edits that shortened the play, omitted three characters and ran it without intermissions, I didn't hear anyone buzzing about that yesterday.
While the theater had to go back to the drawing board to meet the playwright's wishes, adding back in dialogue, intermissions and those characters, it's not as if Version 1 was a travesty; I enjoyed it both for its performances and for Friel's talent with balancing laughter and tears. But seeing the "enhanced" production, one feels the story of young Irishman Gar O'Donnell, on the verge of leaving his homeland for America in the early 1960s, is more fleshed out and touches the heart in a more complete way.
That story is still the same, of course, with the most important change being the addition of those characters omitted before—well, at least one of them. That would be Gar's Aunt Lizzy (Anne-Marie Cusson), whose visit back to Ireland with her husband and a friend (J. Kenneth Campbell and Andrew Sellon in less significant roles) is the catalyst for Gar's decision to leave. She offers him a home in America, and, more than that, a family connection he's been lacking, since his mother died before he knew her and his father has been a mostly taciturn, undemonstrative figure. Cusson's scene is brief, but she's a vivid force from another world and life, one that gives Gar (played by both Christian Conn and Bernard Balbot, representing his public and private selves, respectively) hope for the future.
Beyond Cusson and some of that returned dialogue, it's interesting to see how other connections feel deepened later in the run of a production. Conn and Balbot, along with Peggy Roeder as Gar's substitute mother, Madge, and Douglas Jones as his father, delivered good performances from the beginning. But now, even more comfortably at home in their roles and relationships, they give this coming-of-age story, both uniquely Irish and at the same time universal, even more of a heart. For those who saw the earlier show, and for those who didn't, this Philadelphia is worth a trip.
Philadelphia, Here I Come! continues through April 12 in rotating rep; for tickets, call 351-8000 or go to asolorep.org.