Article
Behind the Scenes of Sarasota's Sailor Circus
The greatest little show on Earth.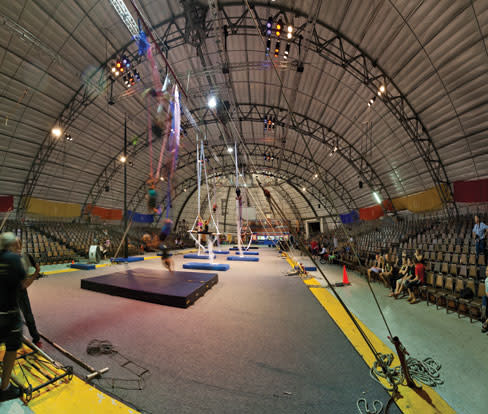 For 65 years, the Sailor Circus Academy has been uniting Sarasota's past and future by teaching circus arts to local kids—more than 7,000 graduates and counting. In addition to working on their disciplines year-round (five afternoons a week during the school year), all of the 120 or so current students put together two annual performances. Famous Sailor Circus graduates include Circus Sarasota legend Dolly Jacobs, balancing act Duo Romanesc, and the Nock family aerialists, who performed live last year on America's Got Talent. After joining forces with Circus Sarasota two years ago, the Sailor Circus became the country's only circus academy to be partnered with a professional circus company.
Factoids:
$3 million: Goal of the Sailor Circus' capital campaign. To contribute, contact Jennifer Mitchell at (941) 355-9335.
Local circus celebrity Dolly Jacobs started training with the Sailor Circus in 1967.
Trapeze artists go through one pound of chalk every month, and wire walkers wear through two pairs of shoes a season.
3 months, 2 hours per day: Time it takes to learn to ride a unicycle.
Aerial silks and hammocks require 200 yards of fabric.
The 5,000-square-foot arena accommodates 1,200 spectators during four-ring performances. The circus is raising money for collapsible seating that will allow more room for training.
In addition to their chosen disciplines, students develop life-management skills, gain self-discipline and bolster confidence.
The concession window serves one 50-pound bag of popcorn—about 300 boxes—per show.
"Whatever skills you have, we'll find them," says managing director Jennifer Mitchell. Students can try dozens of disciplines, including juggling, unicycling, aerial silks and hoops, high-wire walking, trapeze, ringmaster, clowning and rigging.
Students' ages range from 8 to 18.
The facility's new roof, installed in 2009, includes state-of-the-art insulation in anticipation of a new air conditioning system, which is part of the current capital campaign.
Click here to read our exclusive interview with circus star Nik Wallenda. >>
This article appears in the January 2014 issue of Sarasota Magazine. Like what you read? Click here to subscribe. >>