Article
Asolo Rep's Philadelphia, Here I Come!
Arts editor Kay Kipling reviews this moving Brian Friel play.
[caption id="attachment_1099" align="alignnone" width="488"]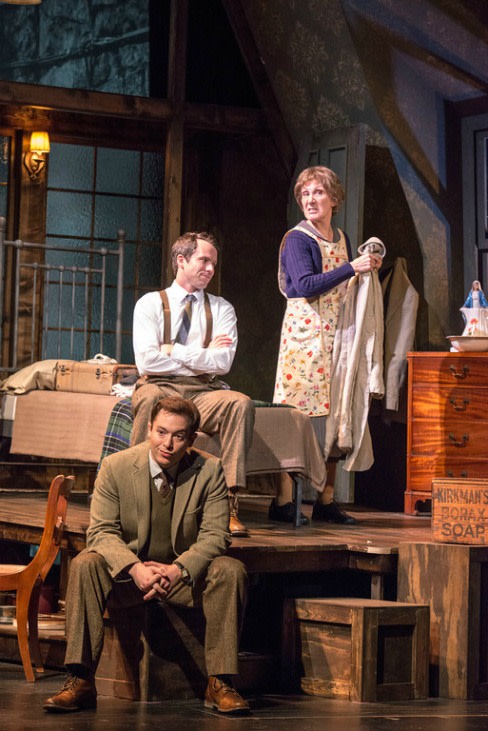 Bernard Balbot, Christian Conn and Peggy Roeder in Philadelphia, Here I Come! Photo by Cliff Roles[/caption]
By Kay Kipling
It's always a pleasure to watch anything directed by Frank Galati, and Asolo Rep's mainstage production of Brian Friel's Philadelphia, Here I Come! is no exception. The story of a young man preparing to leave his hometown of Ballybeg, Ireland, for America in the 1960s is a touching one, and well-acted by the cast. If one longs somehow for more, it is, I think, a vague feeling of something--some layer or depth--missing, without knowing exactly what.
I've only seen the play once before, many years ago in an earlier Asolo production, so my recollection of it going into opening night was fairly dim. Even though Galati has made cuts to the original, fitting it into an intermissionless 90-minute slot, it's not that I can say "Oh, this is what's missing" or "That's not how I remember it." And certainly the appropriate mood--a mix of longing, regret and anticipation--is set from the beginning, when the ticking of a clock signals the last few hours of young Gar O'Donnell's time in his native land.
Gar is played by two actors, one, the Public Gar (Christian Conn), speaking to the other characters and the other, Private Gar (Bernard Balbot), communicating only with--well, himself. He gets to voice the excitement a young man would feel upon journeying to a new life in America, but also the sense of distance between himself and his gruff, cheap father/employer (Douglas Jones), the heartbreak over a final parting from his one-time girlfriend, Kate (Amanda Lynn Mullen), and the realization that he's no longer one of his gang of mates, with their boozing and tales (mostly untrue) of wenching.
Both actors convey that range of emotions truthfully, and the performances by Jones, David Breitbarth (as Gar's former teacher, who once loved Gar's dead mother), and especially Peggy Roeder as the O'Donnells' housekeeper (and Gar's substitute mother) round out the intimate picture of the life Gar is leaving behind. There are also lifting moments in the show, especially courtesy of some music, like a Laurel-and-Hardy-type song-and-dance number performed by the two Gars in a moment of high spirits.
The set, by Russell Metheny, and the lighting, by Paul Miller, succeed in taking us back in time and memory to the house Gar grew up in and aid, along with Friel's thoughtful words and Galati's nuanced direction, in delivering a story not only of one young Irishman but of any of us who ever set out from home with nothing much but a dream.
Philadelphia, Here I Come! continues in rotating repertory through April 12; for tickets, call 351-8000 or go to asolorep.org.