Article
Asolo Rep's Other Desert Cities
Arts editor Kay Kipling reviews Jon Robin Baitz's compelling family drama.
[caption id="attachment_1111" align="alignnone" width="488"]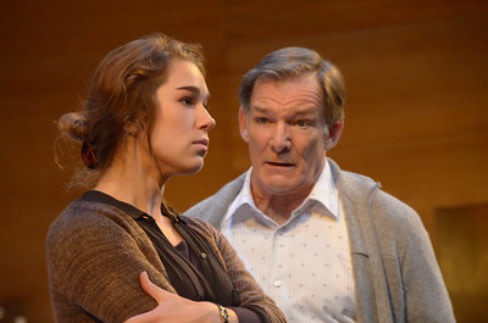 Lucy Lavely and J. Kenneth Campbell in Other Desert Cities. Photo by Gary W. Sweetman[/caption]
By Kay Kipling
The program notes for Asolo Rep's production of Other Desert Cities cite Tolstoy's often-repeated quote: "Happy families are alike; every unhappy family is unhappy in its own way." It's a truism that does certainly relate to this comedy-drama by Jon Robin Baitz, which centers on an American family that on the surface seems to be among the fortunate ones in life.
After all, the parents of the Wyeth clan, Polly and Lyman (Lauren Klein and J. Kenneth Campbell), have had success both politically (as conservatives in the mode of Ronald and Nancy Reagan) and in Hollywood, where Lyman was an actor (again, much like Ronald Reagan) and Polly and her alcoholic sister, Silda (Carolyn Michel), wrote scripts for a series of popular films. Daughter Brooke (Lucy Lavely) is also a writer, albeit one who's been sidelined for a while by severe depression, and son Trip (Benjamin Williamson) is a TV producer (albeit for a reality show of questionable quality). And Mom and Pop reside in a Palm Springs, Calif., home (in a Judy Gailen set design that suits the city and the characters, with a wide view of the mountains) that cost more than a few bucks.
But it doesn't take long for the superficial sheen to begin to tarnish. Apres-tennis and before lunch, Brooke has raised the subject of her current book, a memoir that dredges up the unhappy memory of another sibling, Henry, one lost to the radical left-wing politics of the 1960s and '70s. Her beloved brother's death has haunted Brooke for years—a ghost she hopes to exorcise with the book—but her parents are not happy about the prospect of his story becoming headlines once again. After all, as the likable but denying Lyman says, "A lot of people get through the majority of their lives pretending." Why can't the Wyeths do the same, pretending that Henry's harmful actions never took place?
[caption id="attachment_1112" align="alignnone" width="488"]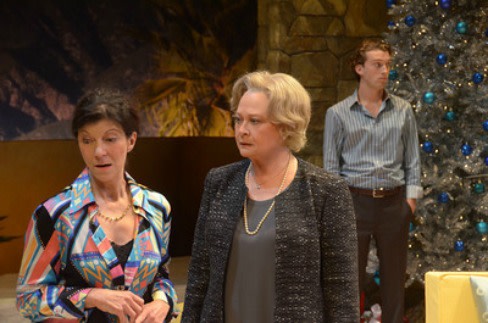 Carolyn Michel, Lauren Klein and Benjamin Williamson in Other Desert Cities. Photo by Gary W. Sweetman[/caption]
Polly's reaction to the imminent publication is even stronger. As portrayed with a sharp edge by Klein, Polly has a way of demolishing Brooke's self-confidence that comes as naturally to her as breathing, and she's equally good at dishing out harsh truths to her dependent sister. There is affection among the members of the Wyeth family, perhaps, but there is little understanding. (No wonder Brooke refers ruefully to the "indentured servitude of having a family.") And as long-buried secrets come to the fore, an inevitable explosion awaits.
Under the direction of Greg Leaming, Other Desert Cities has bite, especially as differing points of view about American wars in the Mideast are argued (the play is set mostly in the year 2004) and the political divisions inherent not only in this family but in many others are rehashed without taking the easy or predictable way out. Klein and Campbell are believable and well-matched, while Michel handles a range of emotions as Silda (whose character feels the least explored, at least in this production).
Lavely and Williamson are each affecting in their own ways, with Lavely portraying Brooke's inner turmoil with conviction and Williamson on target as the youngest brother who has managed to distance himself more from the damage his relatives can inflict. The span of years between the ages of these two FSU/Asolo Conservatory students and the actors playing their parents caused me to expend a little too much thought on the timeline of the story, but the pair are nevertheless strong performers.
Other Desert Cities continues in rotating rep through Feb. 27; for tickets, call 351-8000 or go to asolorep.org.