Article
Party Girl Saddles Up for the 2013 Cattle Baron's Ball
Veronica Pastore hits the 2013 Sarasota Cattle Baron's Ball--here are the details.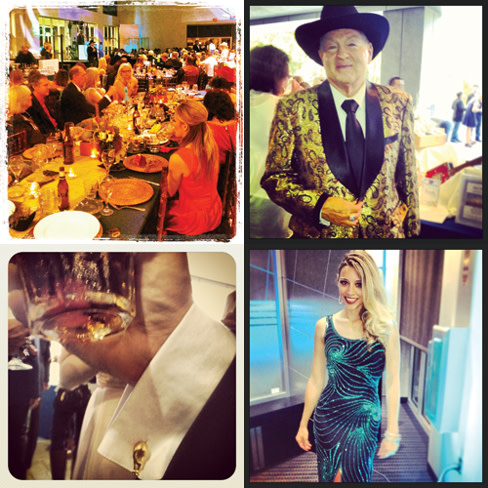 While not my first rodeo, the 2013 Cattle Baron's Ball was my first gala inside a car dealership. And it was a welcome change. Instead of stain-camouflaging carpets and two-ply moving walls, the Gettel Acura space was sleek with glass panels, aluminum surfaces and smooth tile floors that refracted many a slick high heel's click clack.
Chaired by bold local lawyer Anne Weintraub and her lifelong bestie, Kelly Gettel, the dynamic real estate broker, the event reflected the duo's tastes and talents: a flair for fashion, fun and philanthropy. Cattle Baron's, of course, benefits the venerable American Cancer Society's local programs, giving those in our area access to world-class doctors, services and research right here in Sarasota. Considering how many have been affected by cancer, either directly or through family and friends, this is big stuff.
The turnout reflected the connection the local community feels to the cause, with more than 400 showing up in all states of countrified for the event. I'm voting Lynn Barrie and Eduardo Anaya as recipients of my best-interpretation-of-themed-event-attire award: Mrs. Barrie in a ruby red one-shoulder silk gown cinched with giant Western belt. (Husband Richie also looked lovely in pastel purple.) Their good friend Eduardo sported a bowtie that matched Lynn's dress, and his cufflinks, a horse's head and behind on either side of the shirtsleeve, added the perfect hint of country insouciance. When I lamented that my own look, an emerald sequined gown, did not include any cowgirl flair, Lynn popped off several suggestions including the addition of a large turquoise necklace. "I'm calling you next time I'm stumped," I told her, and she graciously encouraged that I do just that.
For an event such as this, I personally prefer an interpretation of the theme as opposed to an all-out costume. If I wouldn't go somewhere afterward in my attire, I wouldn't wear it to the event, either. But that's just me. On the other hand, if you're Bruce Lesser, every day is a costume party. You shoulda seen his jacket: gold jacquard with a black silk tie, 10-gallon hat, and a very sharp pair of cowboy boots. His Texas-sized diamond ring was just a bonus—the man channeled cattle baron. Maybe he was one in a past life?
I also noted multiple pairs of jeans, mostly paired with a sport coat or tux jacket, for example on Jamie Ebling and Evan Berlin, who agreed to have his photo taken "only if you promise you won't post it on Facebook." Printing it in Sarasota Magazine is apparently fine.
Dinner was served family style, which, though I initially grumbled, I now admit led to an added feeling of conviviality at the table. And gol durn it if I wasn't sittin' next to another country girl—Linda Mason, director of the Early Learning Coalition, who grew up about an hour from where I did in Kansas. While her husband and I argued about our alma maters, bitter rivals KU and MU, a precocious 10-year-old took over from auctioneer Michael Klauber, and I left my seat to get a closer look.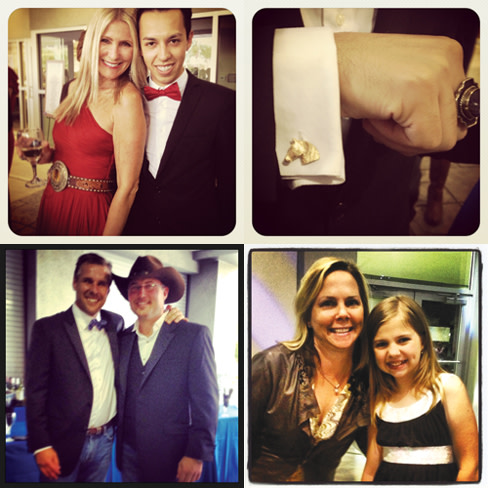 Turns out Hannah Swain was a cancer survivor. She had two-and-a-half grueling years of chemotherapy starting when she was five, has been cancer-free since, and is now pursuing a promising acting career in Hollywood. "We just got back in town," mama Paula told me. "Hannah had an audition to play a young Charlize Theron for a new film. We are so appreciative of everything ACS has done for us, so we made it a priority to be here tonight and help the cause." She beamed at her little girl, onstage making a difference.
"Let's make some noise! Let's end cancer!" the lovely miss Hannah shouted, and hands shot up across the room with an additional flurry of donations. This, in addition to an effusive and luxurious auction, including an eight-person private wine dinner at The Francis, the new event space downtown; a two-year lease on an Acura ILX, which the winner took home for $2,000 less than retail; and a sunset cruise on The Entrepreneur with Jesse and Katie Biter, including cocktails, staff and gas. Fancy.
And then the dance floor opened up. A couple of professionals taught the crowd line dances, which thankfully are very easy to perform. Kelly and Anne were the first ones on the floor, kicking the cowboy boots with the pros and enjoining the rest of the guests to get up from their seats. They did so quickly as DJ and MC Jonathan Cortez performed a nice mix of party music and country songs, including my new fave, Chicken Fried.
I'd been to a few rodeos back in Kansas, but never really felt like a country girl until the Cattle Baron's Ball. The cozy confines, great guests and meaningful cause gave me a comforting down-home feel, even in a gown in the middle of a car dealership. Giddy up!
Follow Veronica on your social network of choice, including Instagram, @veronicapastore.