Article
Theater Review: Asolo Rep's Pulse
Theater critic Kay Kipling gets the heartbeat of the Asolo Rep's Pulse.
By Kay Kipling
[caption id="attachment_929" align="alignnone" width="488"]
Noah Racey in the Asolo Rep's Pulse. Photo by John Revisky[/caption]
It's always exciting to see a brand-new show, especially one with a pedigree like the Asolo Rep's current world premiere, Noah Racey's Pulse. In case you haven't heard of him, Racey is an award-winning Broadway actor, singer and dancer with credits in shows like Follies and Thoroughly Modern Millie; he's also an amazing choreographer with an ability to both salute and transform the sort of American song and dance (think tap on steroids) beloved by American audiences from the days of Astaire, Kelly and the Nicholas Brothers on. And the show is directed by fellow dance master Jeff Calhoun, who helmed the musical Bonnie & Clyde here at the Asolo Rep a couple of years ago and recently scored kudos for his Broadway production of Newsies.
Pulse is subtitled The Beat of Song and Dance, and it is indeed all about the rhythms Racey hears and feels and has communicated to his incredibly talented cast (backed by a seven-member orchestra that is just as attuned to that beat). The show uses not only the expected instruments of drums, guitar and keyboard, etc., but frequently the human body becomes an instrument as well, with all sorts of claps and stomps issuing from hands, feet and chest. (The audience is occasionally encouraged to participate in making sounds, too.)
[caption id="attachment_930" align="alignnone" width="488"]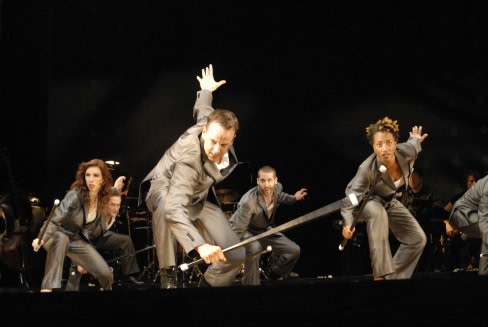 Lauralyn McClelland, Danny Gardner, Noah Racey, Anthony J. Russo and Frances Bradley. Photo by John Revisky[/caption]
Racey's concept for the show follows those rhythms across a wide span of decades, genres and moods in the music. Composers whose works are included range from George M. Cohan and Cole Porter to Keb' Mo' and Regina Spektor, and the dancing from a graceful nod to Ray Bolger's Once in Love with Amy steps (executed by Racey, who's that rare performer who's so engaging he can use even a mistake with a cane to make his audience like him more) to a sizzling adaptation of I've Got You Under My Skin that features the male dancers and the remarkable Frances Bradley both singing and tapping her heart out. There are also sweetly romantic numbers (Baby I'm a Fool, nicely executed by Racey and Lauralyn McClelland) and slicker ensemble ones, like the Wall Street-influenced Puttin' on the Ritz, which segues briefly into Hall and Oates' Rich Girl. (Note here: I attended a preview performance of the show, which officially opens tomorrow, May 23, and since Pulse is still a work in progress, some numbers may change from the ones I saw and heard).
[caption id="attachment_931" align="alignnone" width="488"]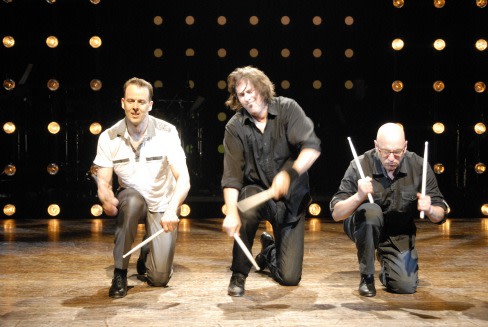 Noah Racey, Jason Yudoff and Jon Berger. Photo by John Revisky[/caption]
There is no storyline as such to Pulse, and while I often miss that in dance musicals, here there was so much to relate to in what the individual numbers were telling me that I didn't care. I was especially touched by a rap toward the end of the show performed and written by Racey (who did in fact write the whole show) that felt deeply personal and triumphant.
Another word about the cast, which demonstrated such a high level of intensity and skill: Besides the performers already mentioned, Christopher Erk, Danny Gardner and Anthony J. Russo revealed some impressive moves and winning personalities. Also deserving special shout-outs: percussionist Jason Yudoff, set and costume designer Tobin Ost, lighting designer Michael Gilliam, music director Aaron Gandy and arranger Ross Patterson.
Pulse continues at Asolo Rep through June 16 and may continue to undergo transformation, as Racey and Calhoun refine it to achieve just the right mix of numbers for overall pacing and maximum effect. It also seems likely the show will head to Broadway. So local audiences should snatch the chance to see it now, and to enjoy the beat that truly comes from the heart of Noah Racey.
For tickets call 351-8000 or go to asolorep.org.