Article
Mariel Hemingway Kicks Off Sarasota Film Festival 2013 Conversation Series
Actress Mariel Hemingway kicks off Sarasota Film Festival's 2013 Conversation series.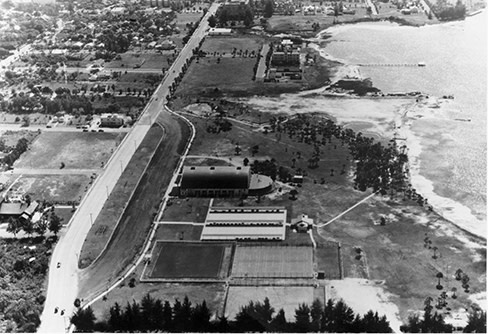 The Sarasota Film Festival kicked off its Conversation Series with an appearance by Mariel Hemingway at the new Court Cabaret Theatre at Florida Studio Theatre Thursday evening.
Hemingway, here in connection with the documentary Running from Crazy, about her family and its long history of mental health issues (and also to receive the Impact Award at today's festival tribute luncheon), looked at ease and younger than her age (51) as she spoke with interviewer Missy Schwartz of Entertainment Weekly about her career in films and her lifelong efforts to find a path to mental and physical wellness.
The conversation began with Hemingway's first appearance in film, in the movie Lipstick, which also starred her older sister, Margaux. Mariel was only 12, a "super shy" athlete at the time; she was both surprised that her sister wanted her for the role of her sister in the film ("We had a charged relationship") and unaware that her own young character was raped in the film ("I was so young, I just did what they told me to. I thought she fell down the stairs or something").
Her performance was strong enough to earn critical recognition, however, and also caught the eye of director Woody Allen, who wanted her to star in his film Manhattan. "I came home from school one evening and my mother was freaking out," recalled Hemingway. "'Woody Allen is on the phone for you!' So I took the phone and he asked me to read for the part and I said to my mom, 'Can I?' I can't imagine why I got the job; I was so nervous I held the script in my face so he couldn't see me." When the 15-year-old Hemingway did get the part and realized she'd have to kiss Allen, she said, laughing, "I practiced kissing my arm in front of the mirror" so she would know how to do it.
That film gained Hemingway even more praise as well as an Oscar nomination. Next up for her was a film she really wanted to be in because of her own athleticism: Personal Best, where she appeared as a young Olympian. "I trained really hard for that," said Hemingway. She had to keep training, too, because an actors' strike delayed shooting for a time, but she couldn't lose the fitness she needed for when cameras started to roll again.
She also wanted to appear in Bob Fosse's Star 80, a very dark film about the death of model-actress Dorothy Stratten, although admitting in retrospect, "I think it affected me more than any other film. It disturbed me for years after. I think it related to my own feelings of being a victim" in her family's turmoil, which left her as "very quiet, because I didn't want to get into trouble."
Hemingway married young, had two daughters and continued to work throughout the 1980s and '90s. But she also began to devote herself to wellness, health and fitness. "I became addicted to that, the way so many in my family became addicted to alcohol," she said. "I was vegan, I was macrobiotic, I exercised for hours. That's how I tried to control my life."
But in the past five years or so Hemingway has found a better balance for herself through nutrition, exercise and nature—a philosophy she shares on her website and her latest book, The Willingway, written with her life partner, Bobby Williams.
Hemingway's current state of wellbeing may be why she felt it was time to face up to her family's demons in Running from Crazy—that and its Academy Award-winning director, Barbara Kopple. "Mental illness affects all of us; every one of us has some version of this story," said Hemingway, who also works with suicide prevention groups. "But we don't want to talk about it. In this case, once we started making the movie, it was either you tell the truth or you go home." And, she added, "There has been no negative reaction from my family."
Running from Crazy screens at 6 p.m. tonight (Friday) at the Sarasota Opera House; standby tickets may be available.