Article
The Second Annual 36-Hour Giving Challenge

Last year's inaugural 36-Hour Giving Challenge set the bar pretty high--$1 million was raised in less than 20 minutes; at the end of the 36 hours, the total was more than $2.4 million. (Read more about that triumph in our Guide To Giving.)
So this year's event had a lot to live up to—but as you might expect, the community rose to the challenge. When the event concluded at 7 p.m. on March 6, the final tally was $2.78 million for the 287 local nonprofits in the Giving Partner database.
The reach was incredible: Donations came from all 50 states. In fact, says Susie Bowie of the Community Foundation of Sarasota, making sure all 50 states were represented was part of the fun. As the clock ticked down and Alaska still wasn't on the list, three different community supporters contacted friends and family in Alaska, and sure enough, the donations came through.
Though it's technically an online event, the Giving Challenge has no shortage of face-to-face fun and fanfare—much of it centered on the festive "Donor Lounge" at the Community Foundation of Sarasota's headquarters. Much like the promotional videos nonprofits produce in the weeks leading up to the event (check out Asolo Rep's "Harlem Shake" and Sarasota Crew's dance-ful vid), throughout the 36 hours, the lounge was filled with Community Foundation staffers and nonprofit representatives who are eager to show their enthusiasm in fun, lighthearted ways. It's an incredible scene.
Karen Bogues of Community Youth Development arrived dressed as Mario from the famous Mario Brothers video games. "She was holding a very business-like conversation with foundation staff and visitors," Bowie says. "It was hard to keep a straight face."
[caption id="attachment_768" align="alignnone" width="488"]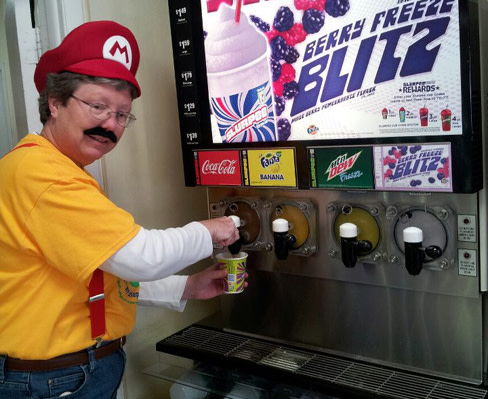 CYD's Karen Bogues gets some refreshment during her Super Mario campaign.[/caption]
Other visitors included Phil King and the Phunky Philanthropists (representing the Glasser-Schoenbaum Human Services Center—which conducted Facebook concerts throughout the day), Gilly the Shark from Mote Marine, a team of University of South Florida folks with green sunglasses, an entire army of Sarasota Crew people with signs to hold up spelling out "Sarasota Crew," clowns from Circus Sarasota, lots of dogs/puppies from various animal welfare groups and an entire class of first graders from Sarasota Christian School. ("I can give you more examples if you want!" says Bowie.)
"GuideStar, the national nonprofit that is our technology partner for The Giving Partner, sent Lori Larson, senior director of DonorEdge—the national 'brand' for The Giving Partner," says Bowie. "She was so impressed by the collaboration among funders as well as the nonprofits that worked together." (And you can see what David Biemesderfer, president and CEO of the Florida Philanthropic Network had to say about the event here.)
Now that the dust has settled, you'd have to imagine preparations for videos, costumes and campaigns for next year's Challenge are already underway. Philanthropy may be serious business, but that doesn't mean there can't be singing and dancing and fake mustaches, too.