Article
March 2013 Highlights
Sarasota events: March 2013
By Kay Kipling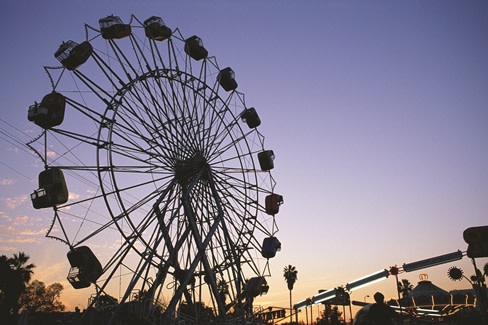 ART
Selby Gallery. Showing here through April 3: Abstract, adj.; Expressing a quality apart from an object, featuring works by a range of abstract artists. 359-7563.
Ringling Museum of Art. Remaining on view through April 14: Paolo Veronese: A Master and his Workshop in Renaissance Venice. Continuing in the Searing Wing through May 19: Herb Ritts: L.A. Style, showcasing the late photographer's work with models, celebrities and more.  359-5700.
Art Center Sarasota. Continuing on view here through April 26: Child's Play; an iconcept retrospective and The Curated Unknowns II, an exhibition of emerging artists. Also on view: Simply Original, an all-media juried show, and Paint Sarasota! The Light Chasers Plein Air Painters (through March 29 only). 365-2032.
Palm Avenue Fine Art. Showing this month: From Plein-Air to the Studio, featuring nine Sarasota artists, opening March 1; and American Masters group exhibition, featuring works by, among others, Daniel Green, Ron Hicks and Ryan Brown, opening March 22. 388-7526.
Museum of Fine Arts. This St. Petersburg museum presents Philip Pearlstein's People, Places, Things—a retrospective of the nearly 90-year-old realist painter's career—starting March 2 and continuing through June 16. There's also a conversation with Pearlstein March 2; for complete info call (727) 896-2667 or go to fine-arts.org.
Crafts Festivals. This month, the Venice Art Classic takes place March 2 and 3 on West Venice Avenue in downtown Venice; the Downtown Sarasota Art & Craft Festival March 23 and 24 along Main Street. (561) 746-6615.
Longboat Key Center for the Arts. The center's annual juried Community Exhibition runs March 8-29 (reception March 9). 383-2345.
Venice Art Center. The center presents a Members Only All Media Spring show, opening with a reception March 8 and continuing through April 5. 485-7136.
The Players Theatre. Artist Jamie Kirkell presents Orchids and Irises, hand painted silk florals, in an exhibition at the theater March 11 through April 12. A reception takes place at 6:45 p.m. March 27. 360-1900.
COMEDY
Howie Mandel. The America's Got Talent judge returns to stand-up for a show at 8 p.m. March 3 at Van Wezel. 953-3368.
DANCE
Sarasota Ballet. The company presents Sir Antony Tudor's Lilac Garden and Dominic Walsh's Neapolitani, March 1-3 at the FSU Center for the Performing Arts. 359-0099 ext. 101.
Kate Weare Company. Innovative choreographer Weare and her dancers present works including Drop Down and Garden, March 7 and 8 at the Historic Asolo Theater in performances part of the Ringling Museum's Art of our Times/New Stages series. 360-7399.
Parsons Dance. Scheduled for this modern dance company's program, at 8 p.m. March 20 at Van Wezel: Round My World, Caught, Kind of Blue and more. 953-3368.
MISCELLANEOUS
Ringling in Bloom. This celebration of all things floral continues at the Ringling Museum, with a lecture/demonstration by Kathy Rainer and Tricky Wolfes, March 1 and 2; grounds and gardens tours, March 1-3; and a flower arranging workshop, March 3. For complete details, call 359-5700 or head to ringling.org/inbloom.
Sarasota Alliance for Historic Preservation Historic Homes Tour. Celebrate our city's architectural heritage by touring five homes and two school buildings in the historic Indian Beach neighborhood, from 11 a.m. to 5 p.m. March 3. A guided trolley tour is available, too. For info, historicsarasota.org.
Creators & Collectors Tour. The Fine Arts Society of Sarasota hosts this annual tour of the homes/studios of several local artists, March 8 and 9. For complete details, head to fineartssarasota.com.
Sarasota County Fair. Get your fill of carnival rides, fair food, midway games and agricultural exhibits, March 15-24 at the 77th annual fair. 365-0818.
Sailor Circus Spring Show. Look for circus thrills and fun from local youngsters at the annual spring show at the Bahia Vista arena, March 28, 29 and 30 and again April 3, 4, 5 and 6. 366-0156.
MUSIC
Boston Pops Esplanade Orchestra. This perennially popular orchestra, under the direction of Keith Lockhart, welcomes vocalist Ann Hampton Calloway for a concert celebrating Barbra Streisand. At 8 p.m. March 1 at Van Wezel. 953-3368.
The Pearl Fishers. Singers Heath Huberg, Lee Poulis and Asako Tamura are locked in a potentially dangerous love triangle in old Sri Lanka in this Bizet opera, onstage March 1, 8, 16 and 22 at the Sarasota Opera House. 328-1300.
Sarasota Orchestra Masterworks. Maestro Alessandro Siciliani conducts the orchestra in Beethoven's Ninth, March 1 (Neel Performing Arts Center) and 2 and 3 (Van Wezel). Works by Martucci and Verdi are also on the program. Up next this month: conductor Andrew Grams guests with pianist William Wolfram for a concert including Dvorak's Symphony No. 9 (New World) and pieces by Fine and Gershwin. March 14-17. 953-3434.
A King for a Day. Corey Crider plays the lead role in this early Verdi work, as a knight who finds that impersonating a king can be used to his advantage and that of others. Onstage March 2, 5, 7, 10, 13, 16 and 24 at the Opera House. 328-1300.
Cavatina Duo. Guitarist Denis Azabagic and flutist Eugenia Moliner team to present works by Bach and Piazzolla, along with four traditional Balkan pieces, at 7:30 p.m. March 2 and 3 in the Historic Asolo Theater. An Artist Series Concerts of Sarasota offering. 360-7399.
Sarasota Jazz Festival. On tap for this 33rd annual fest, J.B. Scott's Allstars; Giacomo Gates with Mac Chrupcala, Patricia Dean and John Lamb; the Terry Myers Big Band performing a Benny Goodman tribute; and the Four Freshmen. Concerts take place at the Players, March 3-9. For complete info call 366-1552; for tickets, 365-2494.
Turandot. Brenda Harris stars as the ice queen Turandot in Puccini's masterpiece, continuing in performance March 3, 10, 15, 19 and 23 at the Sarasota Opera House. 328-1300.
Sarasota Orchestra Great Escapes. A James Bond-inspired musical fling, featuring not only a medley of Bond movie-related songs but also musical treats from Mozart, Tchaikovsky and Elgar. March 6-9 at Holley Hall. 953-3434.
Venice Symphony. Cellist Sasha von Dassow performs with the orchestra March 8 and 9. On the program: Brahms, Elgar, and Beethoven's Symphony No. 7. At the Church of the Nazarene. 207-8822.
Cirque des Voix. Choral ensemble Key Chorale, Circus Sarasota and Sarasota Young Voices, along with the Cirque Orchestra, once more collaborate on this popular program mixing music and circus performance, March 8-10 at the Sailor Circus Arena. 355-9805.
Of Mice and Men. Carlisle Floyd's 1970 adaptation of the classic Steinbeck novel of itinerants Lenny and George continues March 9, 12, 14, 17, 20 and 23 at the Opera House. 328-1300.
Lord of the Dance. The Irish dance spectacular, created by Michael Flatley, returns to the Van Wezel, at 8 p.m. March 12. 953-3368.
Itzhak Perlman. Master violinist Perlman also pays a return visit to the Van Wezel, making beautiful music at 8 p.m. March 14. 953-3368.
Johnny Varro Swing 7. The Glenridge Performing Arts Center, along with South County Jazz Club, presents a performance from this jazz ensemble at
8 p.m. March 16. 552-5325.
Delphi Trio. This piano trio, composed of Liana Berube, Michelle Kwon and Jeffrey LaDeur, performs works by Haydn, Mendelssohn and Grieg in an Artist Series concert, at 7:30 p.m. March 16 and 17 at the Historic Asolo Theater. 360-7399.
Crossroads 5: BluesX. New Music New College's annual Crossroads performance brings together five-piece ensemble Passerine and trombonist David Manson with New College musicians, starting at 8 p.m. March 13 at the Caples Fine Arts complex, to explore bluegrass and the blues. 487-4888.
Beethoven Orchestra of Bonn. The orchestra, conducted by Stefan Blunier and featuring pianist Louis Lortie, concludes the Sarasota Concert Association series season, at 8 p.m. March 19 at Van Wezel. 955-0040.
The Temptations & The Four Tops. Lots of Motown memories ignite when these two vocal groups perform, at 8 p.m. March 23 at Van Wezel. 953-3368.
Giving Hunger the Blues. A host of bands performs from noon to 8 p.m. March 24 in Southside Village, with refreshments for sale, to benefit All Faiths Food Bank. 366-5555.
The Pipes and Drums of the Black Watch, 3rd Battalion, the Royal Regiments of Scotland & Band of the Scots Guards. Music, pageantry and military spectacle, onstage at 7 p.m. March 24 at Van Wezel. 953-3368.
Verdi Bicentennial Concert. Celebrate the master's career with this once-in-a-lifetime offering, performed by Sarasota Opera soloists, orchestra and chorus. At 8 p.m. March 24 at the Opera House. 328-1300.
Voca People. A little something unusual with the Sarasota debut of this vocal ensemble, which comes dressed as "aliens" all in white and makes music using no instruments, just their throats and mouths. Onstage at 8 p.m. March 27 at Van Wezel. 953-3368.
One Night of Queen. Gary Mullen and his band, the Works, relive the heyday of Queen with songs including Bohemian Rhapsody, Under Pressure and more, at 8 p.m. March 28 at Van Wezel. 953-3368.
Queen Latifah. Latifah makes her first stop at the Van Wezel with an evening of her music, at 8 p.m. March 30. 953-3368.
TALKS
Jewish Book Festival. Delia Ephron (You've Got Mail, How to Eat Like a Child) wraps up this festival with an appearance at noon March 3 at the Sarasota-Manatee Jewish Federation's Beatrice Friedman Theater. 371-4546 ext. 119.
Ringling Town Hall. Former astronaut (and husband to former congresswoman Gabby Giffords) Mark Kelly turns up next in this lecture series, at 10:30 a.m. and 7 p.m. March 11 at Van Wezel. 925-1343.
Bill Morrison/Laurie Olinder. Filmmaker Morrison and theatrical designer Olinder appear to discuss and show their work at 7 p.m. March 14 at the Historic Asolo Theater, in a Hermitage Artist Retreat presentation. 360-7399.
THEATER
The Great American Trailer Park Musical. This spoof about trailer park life and characters continues through March 9 on Venice Theatre's Pinkerton stage.
488-1115.
Urban Cowboys. Florida Studio Theatre continues this musical revue featuring works by such artists as George Strait, Reba McEntire and Kenny Rogers, through March 10 at the John C. Court Cabaret. 366-9000.
Hello, Dolly! She's baaackkk! Matchmaker Dolly Levi is still setting up business in this Jerry Herman hit, through March 17 on Venice Theatre's mainstage. 488-1115.
The Heidi Chronicles. Wendy Wasserstein's Pulitzer Prize winner about art historian Heidi Holland trying to find her path to a happy life continues through March 20 at Asolo Rep. 351-8000.
Soul Crooners 2. Relive the soul-filled songs of the '70s in this follow-up to a previous Westcoast Black Theatre Troupe production, onstage through March 24. 366-1505.
The Columnist. Playwright David Auburn's look at powerful political columnist Joseph Alsop, at critical points in his life, continues through April 14 on Florida Studio Theatre's Keating mainstage. 366-9000.
You Can't Take It With You. The Depression can't get the eccentric Sycamore clan down in this classic Moss Hart-George S. Kaufman comedy, onstage through April 20 at Asolo Rep. 351-8000.
By Gershwin: A Tribute to George and Ira Gershwin. This music revue replaces the previously announced Caribbean Soul in FST's line-up at the Goldstein Cabaret, playing March 1 through June 2. 366-9000.
Les Misérables. The 25th anniversary production of the landmark musical marches into the Van Wezel with eight performances, March 5-10 at Van Wezel. 953-3368.
Till Beth Do Us Part. A comedy about a newly hired assistant who causes trouble between a husband and wife, onstage March 7-24 at the Island Players on Anna Maria. 778-5755.
The Pirates of Penzance. Get your Gilbert & Sullivan vibe on with the always entertaining story of young Frederic, Mabel and the Pirate King, at 8 p.m. March 13 at Van Wezel. 953-3368.
Our Town. Thornton Wilder's classic about love, life and death in one small New England town takes to Venice Theatre's Stage II, March 14-30. 488-1115.
Clybourne Park. The regional premiere of this Bruce Norris Tony winner focuses on that Chicago neighborhood, where Lorraine Hansberry set her groundbreaking A Raisin in the Sun, but with some different viewpoints and insights—and a sharply comic look at the same place today. March 15 through May 2 at Asolo Rep. 351-8000.
In the Book Of. John Walch's play centers on two women: Naomi, an army lieutenant, and Anisah, her Afghan translator—both of whom have lost their husbands in the war. Onstage March 27 through May 19 at FST's Gompertz Theatre. 366-9000.
Harvey. Elwood P. Dowd, the lovable character so tied to Jimmy Stewart's representation in the film version of Mary Chase's play, takes to the Players stage March 27 through April 7. 365-2494.
Miss Saigon. That helicopter will land in the Manatee Players' long-awaited new home, March 28 through April 14, with the company's production of this updated pop version of Madama Butterfly. 748-5875.
The Game's Afoot. In Ken Ludwig's comedy-mystery-thriller, actor William Gillette takes his onstage role of Sherlock Holmes to heart, trying to solve his own mystery after being shot by an unknown assailant. Onstage March 29 through May 12 at Asolo Rep. 351-8000.