Article
February Highlights
By Kay Kipling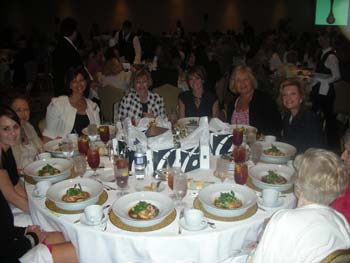 Nick Wallenda appears with Circus Sarasota, through Feb. 15.
Art
Venice Art Center. A portrait and figure open show continues through Feb. 15, with a special fine arts show also set for Feb. 23 and 24. 485-7136.
Selby Gallery. Remaining on view through Feb. 16: Phases of Identity, a collaborative installation show from Carol Mickett and Robert Stackhouse. Opening Feb. 22 to run through April 3: Abstract, adj., Expressing a quality apart from an object, showing the work of emerging, mid-career and well-established artists working in the abstract genre. 359-7563.
Art Center Sarasota. Continuing through Feb. 17: For the Love of Art, featuring works by the Florida Division of Cultural Affairs Individual Artist Fellowship Award recipients; an ACS instructors show; and Point of View: an open, all-media exhibition. Coming up Feb. 28 through April 26: Child's Play, curated by Mindy Solomon; an iconcept retrospective, Paint Sarasota! featuring the Light Chasers Plein Air Painters (it runs through March 29 only), and Simply Original, another open, all-media exhibition. 365-2032.
Longboat Key Center for the Arts. Continuing on view here through March 1: Journeys, featuring 50 Highwaymen paintings from the Lawrence Helmuth collection, and a small selection of works from the estate of longtime Sarasota painter Syd Solomon. 383-2345.
Selby Gardens' Museum of Botany and the Arts. On view here through March 3: Florida Fantastica: Botanical Art by MF Cardamone. 366-5731.
Ringling Museum of Art. Paolo Veronese: a Master and his Workshop in Renaissance Venice continues through April 14 in the Searing Wing. Opening Feb. 22 to run through May 19: Herb Ritts: L.A. Style, featuring prints, magazine covers and more from the late photographer. 359-5700.
Craft Festivals. The annual Siesta Key Craft Festival returns Feb. 9 and 10 in Siesta Key Village; there's also the 25th annual downtown Sarasota Festival of the Arts, set for Feb. 16 and 17 along Main Street. (561) 746-6615.
Dance
Sarasota Ballet. The company highlights the work of Sir Frederick Ashton, with Birthday Offering and Sinfonietta, Feb. 1-3 at the FSU Center for the Performing Arts. 359-0099 ext. 101.
Russian National Ballet Theatre: Sleeping Beauty. Thrill to the music of Tchaikovsky and the dance of this international company, at 7 p.m. Feb. 24 at the Van Wezel. 953-3368.
Miscellaneous
Circus Sarasota. This year's production, with headliner Nik Wallenda, continues through Feb. 15 under the Big Top near Ed Smith Stadium. 355-9805.
Traces. If you're a fan of high-risk acrobatics, this company—which features everything from skateboarding to dance to basketball in its performances—may be up your circus alley. Onstage at 8 p.m. Feb. 6 at Van Wezel. 953-3368.
Symphony of Kitchens. The Sarasota Orchestra Association presents its first tour of eight local kitchens, Feb. 15 and 16, to benefit the orchestra and its youth orchestra programs. Included: the Lido Key kitchen of Sarasota actress Carolyn Michel and Howard Millman and the new outdoor kitchen of Terri Vitale in Lakewood Ranch. There will also be chef demonstrations, and tour guests can enjoy complimentary refreshments at the tour's Hospitality House on Fruitville Road. For complete ticket/schedule info, call 907-6934 or go to sarasotaorchestra.org.
Sarasota Exotic Car Fest. A weekend to benefit United Cerebral Palsy, the annual car fest includes not only parties but also the chance to see new luxury cars, custom-built motorcycles and more, at a variety of venues around town, Feb. 22-24. For complete schedule info, head to sarasotaexoticcarfest.com or call
348-9039.
Ringling in Bloom. Floral art springs to life at the Ringling Museum, Feb. 28 through March 3, with a celebration of flowers, fashion and fine art. Lectures, grounds and gardens tours, flower arranging workshops and more are planned. For ticket info, go to ringling.org/inbloom.
Music
Sarasota Orchestra Masterworks. Guest conductor Daniel Hege and solo violinist Philippe Quint team with the orchestra for Barber's Violin Concerto; also on the program, Haydn's Symphony No. 90, Stravinsky's Firebird Suite, and more. Feb. 1 at Neel Performing Arts Center, Feb. 2 and 3 at Van Wezel. Also this month: Alessandro Siciliani leads the orchestra in Beethoven's Ninth, Feb. 28 at Van Wezel. 953-3434.
New Orleans' Own, featuring the Dukes of Dixieland. Get into the spirit of the Big Easy with this Sarasota Orchestra offering featuring those Dukes; lots of jazz, ragtime and blues. Onstage Feb. 7 and 8 at Van Wezel. 953-3434.
Turandot. The Sarasota Opera opens its 54th season with Puccini's masterpiece about a beautiful but cold princess fond of riddles. Onstage Feb. 9, 12, 17, 20, 23 and 28, with more performances in March. 328-1300.
Philadelphia Orchestra. Pianist André Watts and conductor Rafael Frühbeck de Burgos join the famed orchestra to perform pieces by Liszt, Grieg and Beethoven, at 8 p.m. Feb. 9 at Van Wezel. 953-3368.
Ira Sullivan. Five-time Grammy winner Sullivan, a jazz vet who's played with everyone from Charlie Parker on, pops up Feb. 9 at the Glenridge Performing Arts Center. 552-5325.
Here to Stay: The Gershwin Experience. Performers Kevin Cole, Sylvia McNair and tap dancer Ryan VanDenBoom combine their talents for this salute to the Gershwins; includes rare audio and video footage of the songwriting team. At 7 p.m. Feb. 10 at Van Wezel. 953-3368.
Nights in White Satin. Longtime Moody Blues drummer Graeme Edge, a local resident, teams up with the Sarasota Pops Orchestra for a concert Feb. 10 at Church of the Palms. 926-7677.
Frankie Valli and the Four Seasons. The perennially popular Frankie brings his inimitable vocals—and the hits he had with them—back to the Van Wezel, at 8 p.m. Feb. 11. 953-3368.
Vienna Boys Choir. Those angelic voices will be heard once more Feb. 12 at the Van Wezel, in a Sarasota Concert Association offering. 955-0040.
Just Imagine. Performer Tim Piper channels the late John Lennon in this multi-media concert tracing the music legend's life. At 8 p.m. Feb. 13 at Van Wezel. 953-3368.
Sarasota Orchestra Great Escapes. A concert titled The Envelope, Please brings you award-winning music, from Tonys to Grammys to Oscars, Feb. 13-16 at Holley Hall. 953-3434.
The Ten Tenors. The heartthrobs from Down Under return to the Van Wezel for a Valentine's Day treat, at 8 p.m. Feb. 14. 953-3368.
Sheryl Crow. If It Makes You Happy, Crow will make her Sarasota debut at 8 p.m. Feb. 15 at Van Wezel (there's also a gala dinner that evening for Van Wezel Foundation supporters). For show tickets, call 953-3368; gala, 366-5578.
Venice Symphony. The orchestra presents "Valentine's Classics"—meaning works performed by pianist Joyce Valentine, including Rachmaninoff's Concerto No. 2. Feb. 15 and 16 at Church of the Nazarene. 207-8822.
The Pearl Fishers. Bizet's opera about two heroes in love with the same woman continues the Sarasota Opera season, with performances set for Feb. 16, 19, 21, 24 and 27 (more in March). 328-1300.
Hooray for Hollywood Live on Stage. Enjoy film clips from classics like Singin' in the Rain and Titanic while live performers sing and dance to the related music, at 8 p.m. Feb. 16 at Van Wezel. 953-3368.
Faith Prince. Broadway stalwart Prince turns up (with pianist Alex Rybeck) in the Artist Series Concerts of Sarasota series, Feb. 16 and 17 at the Historic Asolo Theater, sharing songs and, one hopes, a story or two from her career, which includes turns in Guys and Dolls, Bells Are Ringing and Billy Elliot the Musical. 360-7399.
The Beach Boys. Are you picking up Good Vibrations? Fifty years after the Beach Boys burst onto the scene with their California sounds, Mike Love, Bruce Johnston and their band revive the memories, at 7 p.m. Feb. 17 at Van Wezel. 953-3368.
Sarasota Orchestra Chamber Soiree Series. Celebrating Brahms' 180th birthday with a concert Feb. 21 at Holley Hall that features his Piano Quartet No. 1 in G Minor, along with Wagner's Siegfried Idyll. 953-3434.
Celtic Crossroads. Get your Irish up with this evening of traditional music, bluegrass, jazz and more from the musical ensemble often seen on your PBS station. At 8 p.m. Feb. 21 at Van Wezel. 953-3368.
Sandy Hackett's Rat Pack Show. Hark back to the days when Frankie, Dino, Sammy and pals ruled the Las Vegas scene in this show featuring a lot of their songs, plus stories about how they worked and played. At 8 p.m. Feb. 22 at Van Wezel. 953-3368.
Gaëlle Solal. French-born guitarist Solal performs in the Guitar Sarasota concert series, at 7:30 p.m. Feb. 23 at St. Paul Lutheran Church. For tickets, go to guitarsarasota.org.
James Ehnes. Bradenton-based violinist Ehnes, a Grammy winner, plays Feb. 26 in a Sarasota Concert Association concert at Van Wezel. 955-0040.
Talks
Ringling Town Hall. On the schedule this month: former Secretary of Defense Dr. Robert Gates, Feb. 5, and Johns Hopkins professor Dr. Benjamin Carson, Feb. 27. Both lectures are at Van Wezel; call 925-1343 to see if any tickets are available.
Jewish Book Festival. Meet author Rich Cohen (The Fish that Ate the Whale: the Life and Times of America's Banana King) at 7 p.m. Feb. 13 in this Jewish Federation of Sarasota-Manatee event, at the Beatrice Friedman Theater on McIntosh Road. 371-4546 ext. 119.
Arthur Kopit. Playwright Kopit presents a free talk and Q&A at 4 p.m. Feb. 16 at Venice Theatre; part of the Hermitage Artist Retreat's programs. 488-1115.
Theater
Jitney. August Wilson's comedy-drama about unlicensed cab drivers in Pittsburgh ends its run Feb. 3 at Westcoast Black Theatre Troupe. 366-1505.
Moon Over Buffalo. The Ken Ludwig comedy about a squabbling theatrical family ends its run Feb. 3 on Venice Theatre's mainstage. 488-1115.
Anything Goes. The Cole Porter shipboard musical comedy ends Feb. 3 at the Manatee Players. 748-5875.
Viagara Falls. This comedy about two oldsters who decide to reinvigorate life with a certain little blue pill stars Lou Cutell, Robert Pine and Teresa Ganzel, through Feb. 24 at the newly reopened Golden Apple Celebrity Theatre. 366-5604.
Glengarry Glen Ross. David Mamet's hard-hitting comedy-drama about cutthroat real estate salesmen in Chicago continues its run through Feb. 28 at Asolo Rep. 351-8000.
The Great American Trailer Park Musical. Venice Theatre brings back this musical comedy about a manufactured housing community full of characters, Feb. 6 through March 9 on its cabaret stage. 488-1115.
Beyond Words. Interdisciplinary artist Bill Bowers uses music, monologues and mime to explore issues of maleness, at 7:30 p.m. Feb. 7-9 at the Historic Asolo Theater, as part of the Ringling Museum's New Stages series. 360-7399.
Steppin' Out Live with Ben Vereen. Song-and-dance master Vereen pops up at Venice Theatre with this one-man show—a tribute to Broadway, Frank Sinatra and Sammy Davis Jr. featuring tunes like My Way and Mr. Bojangles. Performances Feb. 8 and 9. 488-1115.
Funny Bones: The Comedy of Charlie Chaplin. Acclaimed performer Dan Kamin, who helped train Robert Downey Jr. in the art of physical comedy for his role in the film Chaplin, offers a guided tour of the comic world of genius Chaplin Feb. 10 at Glenridge Performing Arts Center. Film clips, live demonstrations and live music are all part of the program. 552-5325 or gpactix.com.
9 to 5. Dolly Parton penned the tunes for this musical stage adaptation of the popular movie about three working girls who are fighting their way through a chauvinistic world. Feb. 13-24 at the Players. 365-2494.
Ginna Hoben/Twelve Days of Christmas. Playwright/performer Hoben introduces us to Mary, whose broken engagement propels her back into the dating world. At 7 p.m. Feb. 14 at the Historic Asolo Theater, a Hermitage Artist Retreat program. 360-7399.
A Funny Thing Happened on the Way
to the Forum. It's Comedy Tonight once more with this vaudevillian romp through the Roman era, featuring tunes from a young Stephen Sondheim. Feb. 21 through March 10 at the Manatee Players. 748-5875.
Urban Cowboys. A country-flavored musical revue running through March 10 in FST's newest cabaret theater. 366-9000.
The Heidi Chronicles. The Wendy Wasserstein Pulitzer winner about art historian Heidi Holland and her circle of friends, from the '60s through the '80s, continues through March 17 at Asolo Rep. 351-8000.
Hello, Dolly! Matchmaker Dolly Levi is back once more in the iconic Jerry Herman musical, playing Feb. 19 through March 17 at Venice Theatre. 488-1115.
The Columnist. The true story of longtime political writer Joseph Alsop, at a crisis in his personal life. Continues through April 14 at Florida Studio Theatre. 366-9000.
You Can't Take It With You. The classic Hart-Kaufman comedy about the eccentric Sycamore clan continues through April 20 at Asolo Rep. 351-8000.
Stop Kiss. The FSU/Asolo Conservatory presents this Diana Son drama about two young women trying to find their way in tough New York City, on stage Feb. 19 through March 10 at the Cook Theatre. 351-8000.
Leo. Produced and created by Circle of Eleven, a Berlin-based ensemble, this piece employs acrobatics, dance and theater as it follows its hero on a logic-defying adventure. At 7:30 p.m. Feb. 21-23 at the Historic Asolo Theater, another Ringling Museum New Stages presentation. 360-7399.
Soul Crooners 2. Get ready for more of that sweet '70s soul from WBTT, Feb. 22 through March 24. 366-1505.
A Chorus Line. The long-lasting show about those Broadway dance hopefuls returns to the Van Wezel at 8 p.m. Feb. 25. 953-3366.
Caribbean Soul. Get in the island mood with this musical revue featuring songs from the likes of Jimmy Buffett and Bob Marley, onstage Feb. 27 through May 19 at FST's Goldstein Cabaret. 366-9000. n