Article
Sarasota After Dark: Best of The Season
Arts editor Kay Kipling picks the best of the 2012 Sarasota arts season.
Arts editor Kay Kipling picks the shows you need to see.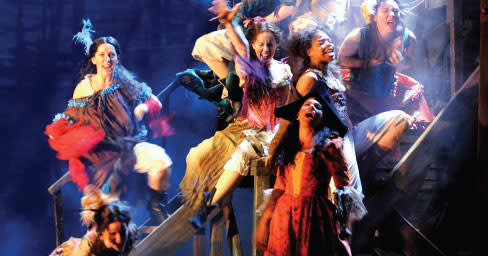 Every Sarasota cultural season feels jampacked, and this year's is no exception. From world premiere dance and theatrical productions and straight-from-Broadway dramas to spine-tingling concerts, sumptuous art exhibitions and recharged presentations of classic and beloved works, year 2012-13 has it all.
While each arts lover will have his or her can't-miss dates to mark on the calendar, here, as a longtime Sarasota arts writer and fan with a slight bent for the new and adventurous, are my top picks—the shows I'm looking forward to most.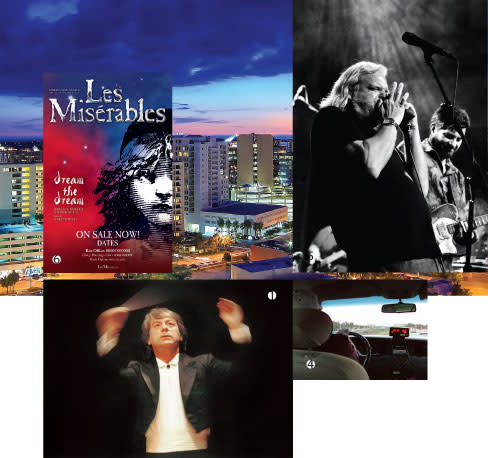 1 There's probably no classical music piece as beloved or triumphant as Beethoven's Ninth, which the Sarasota Orchestra presents in its Masterworks series Feb. 28 through March 3, with maestro Alessandro Siciliani at the helm. Gloria Musicae chorus master Joseph Holt and his ensemble, along with soloists, end the evening with the famous Ode to Joy, sending audiences home on a wave of elation. 953-3434.
2 Players Theatre artistic director Jeffery Kin has been wanting to produce Andrew Lloyd Webber's musical version of Billy Wilder's Sunset Boulevard for years; his dream comes true when the show about faded silent film star Norma Desmond and cynical screenwriter Joe Gillis takes to the stage Jan. 9-20. Michael Newton-Brown both directs and gets the chance to design that famous staircase down which the delusional Norma descends for her close-up. 365-2494.
3 Fans of Martin McDonagh's black comedy style (like me) will want to show up at Venice Theatre's Stage II April 11-28 for A Behanding in Spokane—about a man (Tony nominee Christopher Walken on Broadway) who's been searching for his missing left hand for 27 years and meets a couple in a seedy hotel room who just happen to have a hand to sell. It's the playwright's first work set in America; he's best known here for The Beauty Queen of Leenane, The Lieutenant of Inishmore and The Pillowman. 488-1115.
4 Westcoast Black Theatre Troupe audiences love the company's musicals, but WBTT tackles serious plays, too, as in the case of preeminent African-American playwright August Wilson. This season the troupe brings to life the eighth in Wilson's Pittsburgh Cycle of 10 plays, Jitney, centering on 1970s gypsy cab drivers working in the city's Hill District, where no regular cabs will go. Directed by Jim Weaver (who also directed Wilson's Fences here); onstage Jan. 4 through Feb. 3. 366-1505.
5 The excitement over the first Bradenton Blues Festival has been building for months, with lots of blues appetizers being served up in earlier performances at various venues. Finally, Dec. 1 brings the sound of the blues to downtown Bradenton's newly opened Riverwalk all day long, with Ruthie Foster, Kenny Neal, Dave "Biscuit" Miller, Southern Hospitality, Johnny Sansone, Homemade Jamz, the Steve Arvey Horn Band with Henry Lawrence and Ben Prestage in the line-up. $30 day of the fest; $25 at bradentonbluesfestival.org in advance.
6 Maybe you're already planning on catching the film version of the landmark musical Les Miserables this holiday season, but true Les Miz aficionados will also want to grab tickets for the stunning new 25th anniversary version of the Victor Hugo masterpiece, onstage at the Van Wezel March 5-10. You'll be amazed at how its creators have made it soar through dazzling new video projections, even without that famous turntable. 953-3368.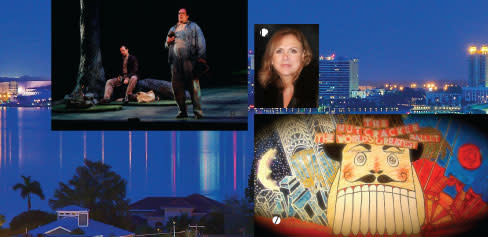 7 The Sarasota Ballet's world premiere of its very own original Nutcracker (Dec. 14 and 15 at Van Wezel) is not like any Nutcracker you've seen before. The company teams with the Ringling Circus Museum and Feld Entertainment to retell the story of young Clara with a circus connection; she and her family, in New York one 1930s Christmas Eve, have an encounter with circus owner John Ringling and his troupe that leads to a memorable journey. Choreographed by Matthew Hart. 359-0099 ext. 101.
8 It doesn't get any more American than John Steinbeck, which makes Carlisle Floyd's adaptation of his novel Of Mice and Men a perfect choice for the Sarasota Opera's American Classics Series. This version of the tale of Lenny and George wandering Depression-era California bowed more than 40 years ago, but it's a premiere for Sarasota, starring tenor Corey Bix as gentle giant Lennie and baritone Sean Anderson (Iago in last season's Otello) as his reluctant protector, George. March 9-23. 328-1300.
9 The opening of the Manatee Players' new performing arts center near downtown Bradenton has been a long time coming, but, fingers crossed, it finally arrives with a production of Miss Saigon, March 28 through April 14. But it's up to us, since the organization needs to meet its fund-raising goal before the show can go on. Do you want to see that helicopter land in the new space, or try to squeeze its rotors into the old one? 748-5875.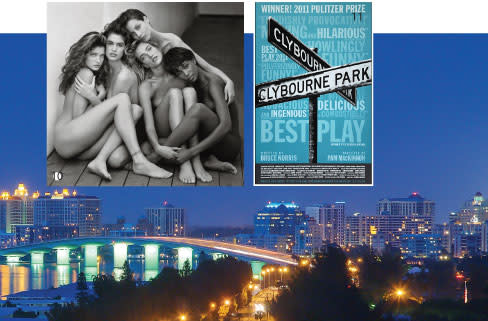 10 The Ringling Museum has several strong exhibitions this season, but we can't wait to see Herb Ritts: L.A. Style, Feb. 23 through May 19. Fashion photographer Ritts had a knack not only for working with models like Cindy Crawford or Christy Turlington but with superstars like Michael Jackson, Madonna, Julia Roberts and more. The photos and videos in the show, originated by the J. Paul Getty Museum, demonstrate his talent for blurring the boundaries between art and commerce. 359-5700.
11 The Asolo Rep continues its season-long investigation into the American character with Tony- and Pulitzer-winning play Clybourne Park by Bruce Norris, March 15 through May 2. It takes place in the same neighborhood where Lorraine Hansberry set her groundbreaking A Raisin in the Sun more than 50 years ago. After the first act, it jumps forward to modern-day times in its dissection of the issues of race, housing and the American dream. Directed by Michael Edwards. 351-8000.
12 John Lithgow (who's at the Van Wezel later this season) won raves as powerful political writer Joseph Alsop in Pulitzer Prize-winning playwright David Auburn's The Columnist on Broadway recently. Now the piece, exploring Alsop's Cold War years, when a forbidden sexual encounter made him ripe for blackmail, arrives at Florida Studio Theatre, Jan. 30 through April 14. No word yet on who plays the once-feared columnist, but FST stalwart Kate Alexander directs. 366-9000.
Shows are not listed in order of preference.
Perennial Highlights
The Sarasota Film Festival offers its always intriguing line-up of movies, stars, conversations, parties and more, April 5-14. 364-9514.
Circus Sarasota, with performances Jan. 25 through Feb. 15, welcomes back red-hot headliner Nik Wallenda and his troupe, along with acclaimed hand balancer Encho and Big Apple Circus ringmaster Paul Binder. 355-9805.
Ringling College Library Association's Town Hall celebrates the American dream with speakers Walter Isaacson, Dr. Robert Gates, Dr. Benjamin Carson, Captain Mark Kelly and Tom Brokaw. Isaacson kicks off the series Jan. 15 at Van Wezel. 925-1343.
The Perlman Music Program/Suncoast returns Dec. 20 through Jan. 5, with more than 20 free events featuring the program's young talents and faculty. 955-4942.
La Musica's 2012 season of chamber music features "Something in the Air," with concerts April 5, 9, 12, 15 and 18 at the Opera House. Familiar favorites, including artistic director Bruno Giuranna (celebrating his 80th birthday), return. 366-8450 ext. 3.