Article
Sarasota After Dark: Bandwidth
These three bands are helping the local Sarasota music scene make a name for itself.
These local musicians deliver a range of sounds, from country to alt-rock and beyond. Listen up.
Pound for pound, tune for tune, few Florida cities can touch Sarasota when it comes to musical talent these days. Believe it. Over the past few years, fans have witnessed a rising tide of ambition and creativity in what was once a placid sea of tired metal acts and Tommy Bahama cover bands. In an era in which listeners can keep up with Estonian dubstep with a five-second YouTube search, local bands and artists are offering an intimate, sweaty alternative to the sanitized digital listening experience, making waves here at home and in more far-flung locales, too. The best part about it? There isn't any one Suncoast sound that's easy to pigeonhole. Head out to a show, and you might hear everything from hillbilly folk to drone-driven post-rock.
On these pages, we spotlight three area bands that are doing big things, from placing their music in national car commercials (Have Gun, Will Travel) to spending a year traveling in a camper playing tunes around the country (Bard and Mustache).
But the list of top-quality bands and artists in our region runs much deeper.
Acts that don't appear here but are worth your time: Passerine, an acoustic quintet with rustic melodies Alan Lomax would have been eager to capture; Cats in the Basement, a twisty indie rock band with a sly, lyrical sense of humor; I.G.O.R., synth-funk champions with bone-deep grooves. And there's more where they came from: Fancy Rat, The Equines, Cassolette, The Human Condition, The Wallies, Villanova Junction... I could go on, but the best way to discover what our area has to offer is by diving in headfirst.
A good time to start: Saturday, Nov. 10. That's the day several of the bands listed here will be performing together at the Cock & Bull to commemorate the release of Noise Ordinance 3, a CD compilation of tracks from 36 different 941 bands and artists. It's a great sonic buffet at which you can sample some of the region's tastiest offerings. I guarantee you'll leave with at least a few new favorites.
Click here to listen to music from each of the bands below.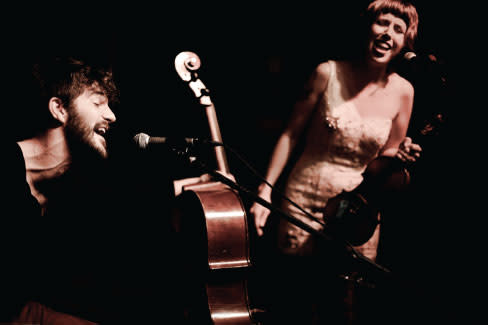 BARD AND MUSTACHE
Is it hard being in a relationship with someone you're in a band with? Erin Murphy and Greg Bortnichak—the fiancée-and-fiancé duo known as Bard and Mustache—both laugh when I ask the question. "No," they both say in unison. "For us, it's blended together since the beginning," Murphy explains. "We started playing music together and then, two days later, we're like, 'All right, let's date.'"
Murphy, who has played for years with the well-regarded indie-folk group the Equines, began singing more personal songs when alone with Bortnichak, who would work on sounds and arrangements to supplement the melodies. Today, the pair works and writes together, spontaneously, with the tape running at their home studio. That collaborative process is yielding strong results: a four-track EP released this summer and a full-length now in its final stages. The sound, with echo-laden loops and distorted electric guitars, is miles removed from the duo's early mournful folk.
Murphy is even singing differently these days. With the Equines, she often attacks her words with a dissonant warble; with Bortnichak, her vocals have become more direct, confessional. "I had written a lot of songs that just were too introspective or too slow or mellow that I couldn't really use," Murphy says. "I started playing them for Greg and it was more playing them at 3 a.m. in the bedroom with an acoustic guitar sort of feel. And somehow, feeling so comfortable around Greg brought that softness out and really taught me things about my voice that I didn't know were there."
Next summer, the two are planning to gallivant around the country in a camper for a full year, playing at wherever venues will have them. Pray they come back.
Listen to Bard and Mustache at bardandmustache.tumblr.com.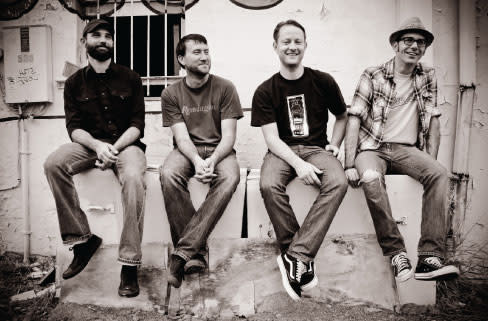 HAVE GUN, WILL TRAVEL
Have Gun, Will Travel began seven years ago as a lark, a one-off, an opportunity for Bradenton's Matt Burke to put out seven self-recorded acoustic country-folk tunes he had written away from his main gig in an alt-rock band. The new music was startling, the lyrics imbued with a writerly eye for detail and the music fleshed out with banjoes and harmonica. Hank Williams and Bob Dylan would have been proud.
By 2008, that one-man operation had become a full-fledged band, and so began life on the music treadmill. In the last four years, Have Gun has put out three full-length records and toured around the country on a regular basis. The band's single-minded diligence about writing, recording and touring has paid dividends. The Have Gun tune Blessing and a Curse was picked up to run in a Chevy Traverse ad, and the group was spotlighted in a short documentary about the Dude, the guy who inspired the famous Big Lebowski protagonist.
Right now, the band (Danny Burke, J.P. Beaubien, Scott Anderson, Matt Burke, from left in photo) is putting the finishing touches on LP No. 5. "We're trying to step out a little bit," says Burke, "getting more into a rock 'n' roll direction than maybe the last couple of records. So we've got horns on some of the songs. We're trying to do some different things." Longtime fans expect nothing less.
Listen to Have Gun, Will Travel at hgwtmusic.com.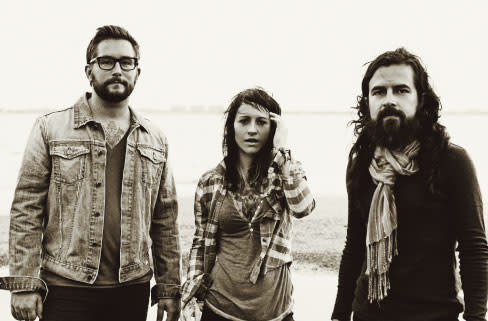 SONS OF HIPPIES
Earlier this year, when Sarasota's Sons of Hippies went on hiatus, they decided to make some major changes, and began systematically working to "erase all of the things that were standing in our way," says lead singer and guitarist Katherine Kelly. For Kelly, that meant learning to play more nuanced leads; for drummer Jonas Canales (also Kelly's husband), that meant figuring out how to simplify his patterns without becoming monotonous.
They even flirted with changing their name.
"Sons of Hippies" wasn't doing much for clubs they would call to pitch gigs. Promoters thought they were some kind of mellow, Grateful Dead-like granola band—which couldn't be further from the truth. Over the course of two LPs and an EP, the group (which now also includes bassist David Daly) has raised holy hell, with aggressive guitar washes, ambient noise effects and Kelly's passionate vocals.
Ultimately, they decided to keep their name, rather than risk confusing their growing fan base. The band has been gaining notice well outside Sarasota. They regularly pick up awards as one of the top acts in the Tampa Bay area, and recently attracted the attention of a California label looking to repackage some old Sons' tunes with some fresh ones for a new release. What will those new songs sound like? With the band in a constant state of reinvention, it would be foolish to guess. But given the band's pedigree, it will no doubt be bracing.
Growler's Pub
2831 N. Tamiami Trail, Sarasota, (941) 487-7373, growlersonline.com
Yet another Sarasota craft beer bar, Growler's is a straightforward watering hole that puts on shows up on the North Trail, near Ringling College.
5 O'Clock Club
1930 Hillview St., Sarasota, (941) 366-5555, 5oclockclub.net
A live music stalwart in the Hillview area, the Five-O has live music every single night of the week. The crowd here is always up for a good time and can get raucous in a hurry when the bands onstage bust out the classics.
Cock & Bull
975 Cattlemen Road, Sarasota, (941) 363-1262, the-cock-n-bull.com
The Cock & Bull, legendary for its War and Peace-thick beer list, doesn't always have music, but when it does it's usually worth hearing. Few evenings are more pleasant than one out behind the main wooden building, with the fire pit roaring and a good band onstage.
WSLR
525 Kumquat Court, Sarasota, (941) 894-6469, wslr.org
WSLR 96.5 LPFM, Sarasota's independent community radio station, moved into spacious new digs last year, and occasionally hosts bands at its warehouse-slash-patio space. As befitting a community radio station, the vibe here is relaxed and friendly, almost familial.
The Blue Owl Tavern on Main
1507 Main St., Sarasota, (941) 953-6777, theblueowlbar.com
A narrow sliver of a bar set down in the middle of high-end boutiques, the Owl has undergone several changes over the last couple years but still regularly features young Sarasota bands on its postage stamp-sized stage and imports and craft beers on its drink menu.
The Shamrock
2257 Ringling Blvd., Sarasota, (941) 952-1730, shamrocksarasota.com
It can be tough to hear the bands above the din of spirited conversation at the Shamrock, but this tiny craft beer bar (once known as the place you went to for a cold one right after getting out of jail) has experienced a major resurgence in recent years. Bring cash, 'cause this place doesn't accept credit cards, and stake out a spot near the front, where the bands set up.
Aces Lounge
4343 Palma Sola Blvd., Bradenton, (941) 795-3886, 4aceslounge.com
A smoky, barn-like Bradenton dive, this cavernous saloon is one of the few local venues to regularly host touring groups, and is a home venue of sorts for Have Gun, Will Travel.
The former editor of Creative Loafing, Cooper Levey-Baker has covered the local music scene since 2004.