Article
SagaCity Media Acquires Sarasota Magazine, Affiliated Publications
Florida team joins dynamic city magazine and custom publishing firm on the vanguard of digital media.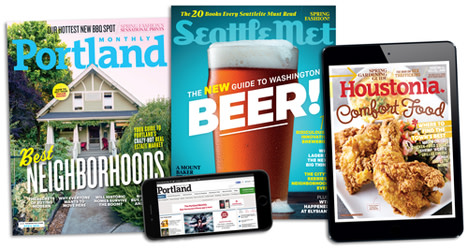 PORTLAND, OREGON – (Nov. 30, 2015) – Today, SagaCity Media president Nicole Vogel announced the company's purchase of Gulfshore Media LLC's popular slate of Sarasota-based titles, including Sarasota Magazine, Biz (941), SEE Sarasota, Sarasota Health, and Venice Magazine. The acquisition, the largest in the Oregon-based company's history, promises to bring pioneering digital strategies and robust new content to Gulfshore's high-quality, market-leading publications.
"As an industry leader in the development of digital content, SagaCity is proud to have the chance to take Sarasota and its sister titles to the next level, expanding their already impressive reach and influence," says Vogel. "These are magazines that matter greatly to the lives of thousands of Sarasota and Manatee County residents and visitors, and SagaCity aims to further deepen those relationships. As an organization, SagaCity is only interested in acquiring the most successful and dominant titles in a market.Sarasota Magazine certainly fits that profile. Taking its highly sought-after content and adapting and expanding it to fit any device that consumers deem valuable will be a truly exciting project."
It was SagaCity's best-in-breed digital approach, a winning strategy in markets in the West and South, that caught the attention of Gulfshore president Dan Denton, who founded Sarasota Magazine in 1979. "SagaCity enjoys a well-deserved reputation for creative excellence in print and for innovation in the digital sphere," Denton says, noting that group publisher Kelley Lavin, editorial director Pam Daniel and creative director Gigi Ortwein will continue to lead the Sarasota team under SagaCity's direction. "I believe that our titles are in the best possible hands because SagaCity understands our business and values, can build on our legacy of quality and community service, and can rapidly take us to the next level in digital media."
Vogel says she was particularly attracted by Gulfshore's deep involvement in the local arts scene, as evidenced by its custom publications and playbills for the Sarasota Orchestra, the Ringling Museum of Art, the Van Wezel Performing Arts Hall, the Asolo Repertory Theatre and the Westcoast Black Theatre Troupe. "Vigorous support of the arts has always been one of our company's hallmarks," she says, "and Sarasota and environs are one of the greatest, most celebrated arts communities in America."
The Sarasota acquisition also represents an important moment for 12-year-old SagaCity, Vogel notes, namely the Portland-based company's first venture into the East Coast market. "From our Pacific Northwest beginnings, with the launch of Portland Monthly and Seattle Met, to our acquisition of resort titles in the Mountain West, to our launch ofHoustonia—the largest-selling monthly in the nation's fourth-largest city—SagaCity's march across the country has been both deliberate and tremendously gratifying," she says. "Behind our success lies an unwavering commitment, in every one of our markets, to producing the finest possible news and lifestyle journalism and custom content, all of it original and homegrown. And now, I'm proud to say, we'll be making that commitment from coast to coast."
About SagaCity Media
SagaCity Media Inc. is the parent company of the preeminent lifestyle media brands in Houston, Seattle, Portland, Aspen, Vail, and Park City. In their respective markets, Houstonia, Seattle Met, and Portland Monthly produce the largest-selling magazines, most-visited local lifestyle websites, and industry-dominating numbers of engaged social media followers. SagaCity also proudly produces web content and publications elsewhere, many of them award-winning, for conventions and visitors bureaus or lodging associations in such markets as Portland, Seattle, Santa Monica, Aspen, Washington state, Eastern Oregon, Bellevue, Tacoma, Galveston, Aurora, Eugene and Vancouver.
About Gulfshore Media, LLC
Florida's most awarded magazine in 2014 and 2015, Sarasota Magazine has been the local authority on fine living, and an indispensable resource to an influential and loyal readership, since 1979. Each month the expertly designed magazine offers readers a connection to the arts, dining, healthy living, luxury home décor, style, shopping and philanthropy, and its mission is to inspire and inform as it shares all that this beautiful, vibrant, and sophisticated Florida Gulf Coast community has to offer. Additional titles include SEE Sarasota, Biz(941), Sarasota Health and Venice Magazine and a variety of arts playbills and other custom publications that serve distinct niches within the Sarasota-Manatee market.
Contact:
Emily Wyant, SagaCity Publicity Manager
(213) 479-0421 [email protected]