Article
Sarasota Magazine Summer 2014
Sarasota Magazine Summer 2014.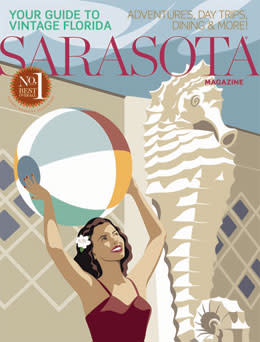 Subscribe to Sarasota Magazine
Subscription Services 
About Us
FEATURES
Our Authentic Florida blogger scouts out fun adventures for an Old Florida summer. BY ROBIN DRAPER
The countdown's on for the opening of the dazzling new Mall at University Town Center. Shopping savant Carol Tisch sleuths and shares.
Ilene Denton on why it's time to revive the idea of a downtown cultural park.
DEPARTMENTS
Pam Daniel compiles an Old Florida summer reading list.
The Heat Index
People, issues and events on our radar, including top tickets, Carol Tisch's St. Armands shopping finds, Chef Judi Gallagher's dish, Heather Dunhill's Fashion IQ, Bob Plunket's Home of the Month—and more.
When Ringling College's Kevin Dean passed away, Sarasota lost an artistic leader--and Mr. C lost a friend.
Luxury Home
How to create the perfect Florida beach cottage, plus the latest news in real estate and design.
Best apps for monitoring Parkinson's disease tremors, new hope for thinning hair and  more. By Hannah Wallace
Food and Wine
John Bancroft happily dines on Southern fare at Blue Rooster and super-fresh seafood at Cortez Village's new Tide Tables. Plus: Karen Odierna of CROPJuice, and Sarasota's best fro-yo.
Illustrator John Pirman strolls down the Paul Rudolph walkway at Sarasota High School.