Article
Party Girl Hops on the Party Train at Key to the Cure 2013
Veronica Pastore hops on the pink party train at Key to the Cure.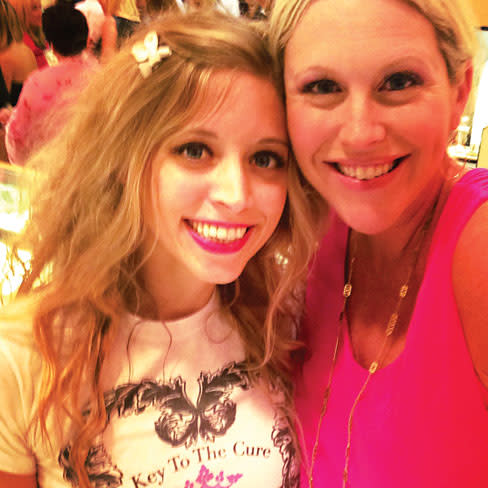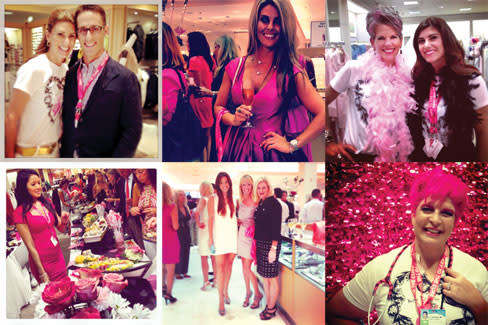 "Get in my party train!" a pretty blond guest yelled from the pink balloon-covered golf cart in which she and her date were seated. I complied, hustling to jump onto the trolley that would whoosh me from the far reaches of Westfield Southgate's parking lot to the front door of Saks Fifth Avenue. Key to the Cure, the annual event benefiting women's cancer care programs at Sarasota Memorial Health Care Foundation, was at Southgate for the last time this year; a new Saks will open next year in University Town Center, so the event committee, which I was happy to be part of, made a big effort to go out with a bang.
First indication that this iteration of this party would be epic was the full page of typed instructions I was handed upon check-in. I never read and promptly lost this massive missive, but it was clear there was a lot going on: fortune tellers, hair coloring, red carpet interviews, food, drinks and duh, Saks' entire sales floor. The whole party was very pretty in pink and white—even the drinks were pink or gold, in part because of Saks' policy of no red wine in the store.
The crowd of 700-plus guests was great: ample but not crazy full, mixed and not segregated: a good cross-pollination of young and old, society and working folk. Among the latter was co-chair Dr. Allison Silver, who joked that instead of Key to the Cure, the party should have been called the "Be Careful What You Wish for Event"—she and fellow chairs Sally Schule and Nikki Taylor were overwhelmed in the very best way with the number of raffle items, sponsorships and ticket sales. For the first time ever, the event was officially sold out days before the party, and would-be attendees had to ask very, very nicely if they wanted to buy a ticket day of.
"Never underestimate the power of Sarasota community," Allison told me at the door with a relieved smile. Pink ribbons abounded, including sequined ones on the custom Tervis Tumblers for sale and gorgie pearl versions pinned on Montana Ross Taplinger, Erin Hart and Ashley Dooley. When I complimented Montana on hers, she said they were from mom Nikki Sedacca's store and made from real pearls. I'ma have to get me one of them for next year.
Lots of local men supported women's health initiatives, too, like Pacific Rim owner Veth Seneoi, whose neck and chest were covered in glitter for reasons I did not immediately understand. The Rim's spread at the party was remarkable, with fresh pink roses and white daisies surrounding massive boats of sushi, and set off, as usual, with gorgeous girls in skintight skirts—just tonight, in pink, not black. They were also accessorized with the pink "key" lanyards that served as entry into the raffle, a popular item—more than 90 percent of those who purchased one actually won a gift, with a handful of major prizes announced later in the night from the stage.
Eventually I realized Veth's sparkle was actually from glitter tattoos. Guests earned them by making another $10 donation, or they could choose to have their hair temporarily streaked hot pink. Dr. Alissa Shulman outdid everyone on that count, though, with an all-over magenta do, including pink eyebrows. Now, that is dedication to a cause, and incidentally, she rocked the look. Tatyana Sharoubim went slightly subtler with a pink and purple print scarf and white top. I ran into her while trying to get through the crowd for some treats, and Taty commiserated that she, too, was heading that way but kept "getting stopped every two feet" running into friends.
Jackie Massey, Dan Lawrence and Courtney Adams were among those friends, all of whom also looked lovely and crisp in bright white, complementing nicely the hundreds of us in pink pink pink. I wore this year's signature Key to the Cure T-shirt, designed by Emilio Pucci, sales of which also benefited women's cancer research, and pink slacks, but my favorite look at the party was probably Lauren McComb's pink-to-purple ombre bell dress. On trend and on theme.
Everyone crowded around when the major raffle prizes were announced. Ashley Dooley won the best one, a pair of those new super-hot, pointy, studded Valentino pumps. Lucky girl! Saks also unveiled drawings of its new store, which will have double the space in a very Mad Men-looking mid-century modern complex.
Loaded down with lovely swag from tons of area businesses that support breast cancer research, we boarded those pink balloon-covered golf carts to ride back to our cars under a lovely October night sky. Be careful what you wish for—Sarasota is in season.
From top left: Me with co-chair Nikki Taylor; Lauren McComb; co-chair Sally Schule with Christina Sadler; co-chair Dr. Allison Silver and husband Dr. Hardy Schwartz; Pacific Rim's spread; Dr. Alissa Shulman rocks pink hair and eyebrows; leggy ladies Courtney Adams, Kym Smith and Jan Loomis.
Follow Veronica on your social network of choice, including Instagram, @veronicapastore. >>
This article appears in the December 2013 issue of Sarasota Magazine. Like what you read? Click here to subscribe. >>