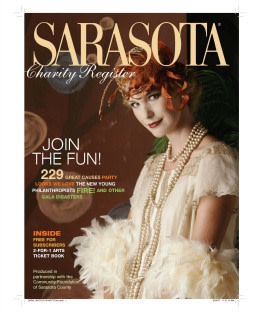 CHARITY REGISTER
FROM THE EDITOR
Ilene Denton on the new activist givers.
FROM THE PUBLISHER
Our remarkably generous community, from Jeff Lawenda.
The Community Foundation of Sarasota County, by the numbers. By Ruth Lando
Meet three Sarasotans who are out to change our community, and the world. By Ilene Denton
Six brave chairwomen share their worst faux pas. By Mary Alice Collins
THE SARASOTA LOOK
How to define Sarasota style? Simply and elegantly, as these pictures from our "Limelight" pages show.
SATIN DOLLS
Gatsby glamour for the modern gala-goer. Produced and photographed by Mary McCulley
THE 2007-2008 SEASON CALENDAR
Your guide to this season's most exciting events.
Our comprehensive listing of Sarasota nonprofits.
The Ringling Design Center gives back. By Ilene Denton