Article
PUTTING THE PATIENT FIRST
DR. ROBERT MEADE is the chief executive officer at Doctors Hospital of Sarasota. He has served in this role since coming to Sarasota from Englewood Community Hospital in 2005. Meade has been with HCA, the hospital's parent company for 30 years. He is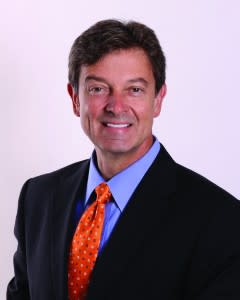 WHAT IS PATIENT-CENTERED CARE?
At Doctors Hospital of Sarasota, patient-centered care is the basis of our culture. It is the belief that we are not just treating a disease; we are caring for individuals and their families. From the nurses to the leadership team, every decision and every interaction is guided by what is best for the care and comfort of our patients.
"The patient is at the heart of everything we do."
WHY IS PATIENT-CENTERED CARE SO IMPORTANT?
With so many changes in healthcare today, it's easy to get caught up in talking about the latest technology or the ever-changing legislative landscape. While Doctors Hospital is committed to advancing our health options via technology and new services, it is important to remember that the patient is at the heart of everything we do.
HOW DOES PATIENT-CENTERED CARE IMPACT YOUR DECISION-MAKING PROCESS?
It significantly impacts the decisions we make at the hospital. For example, when we decided to offer da Vinci Si robotic surgery, it was only after we fully understood how having this technology as an option would benefit our patients. That is why we ensured that we obtained the most advanced robotic system available, including the training system that allows our surgeons to increase their comfort level with the technology and practice their skills. We also continue to invest in the tools that allow our patients to have a wider range of options when facing surgery.
HOW DOES PATIENT-CENTERED CARE IMPACT DAY-TO-DAY OPERATIONS?
It is at the core of every patient interaction. From all private rooms to the special touches provided by our concierges and patient ambassadors and the personalized care provided by our physicians and nurses, we put our patients and their loved ones first.
ABOUT: A 155-bed acute and general care facility, including 24/7 emergency room, medical and specialty services as well as outpatient services and diagnostic and rehabilitation services.
CONTACT: (941) 342-1100
LOCATION: 5731 Bee Ridge Road Sarasota, FL 34233