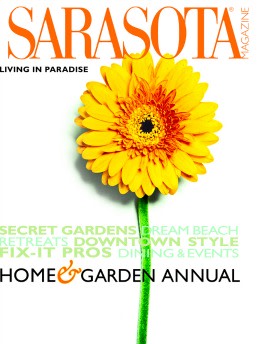 FEATURES
Writer Robert Plunket and photographer Brad McCourtney single out some of Sarasota's most appealing avenues.
This Gulf-front house had locations and lots of potential--but it needed ace design help to blossom into full beauty. By Carol Tisch
Old Florida shades and sensibilities move into the modern era at a 100 Central condo. By Carol Tisch
Open the gate to a magical secret garden along the bayfront. By Ilene Denton
When bad things happen to good furniture, floors or fine art, these go-to guys make everything right.
DEPARTMENTS
After a home renovation nightmare, Pam Daniel calls Design 911.
News and names to boost your civic I.Q.
Richard Storm finds Manatee's new judicial center does justice to its mission and neighborhood.
Carol Tisch explores Sarasota's furniture trail and sets a spectacular table.
MR. CHATTERBOX
Forget your worries about the economy--here are eight off-the-wall strategies to keep your company afloat.
LIMELIGHT
Rebecca Baxter snaps people and parties, and our "Social Detective" navigates our city's changing political waters.
It's all automatic in a smart Lakewood Ranch outdoor room. By Carol Tisch
Top sales, great values and other inside information.
GOOD MEDICINE
How genetic testing helped save one local woman's life. By Su Byron
Restaurant critic John Bancroft applauds Hyde Park Prime Steakhouse and Deja Vu; chef Judi Gallagher serves up fall flavors with bright bell peppers.
Kay Kipling's roundup of this month's arts and entertainment events, plus On Exhibit by Mark Ormond.
SENSE OF PLACE
Illustrator Regan Dunnick's fun map of Sarasota Jungle Gardens.