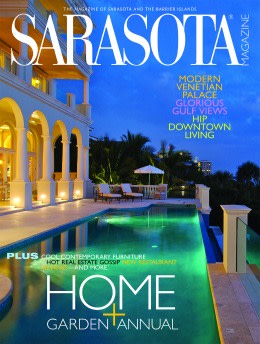 FEATURES
Today's new downtown dwellers enjoy Sarasota's evolving urban lifestyle the way they want to.
A globetrotting couple brings Renaissance Venetian style to their lovingly detailed Longboat Key home.
Architect Guy Peterson collaborates with the owners of a Manasota Key modern to bring the glorious outdoors into every room.
Tucked away in Whitfield Estates lies a lush Mayan rainforest that's a tribute to one man's persistence and vision.
DEPARTMENTS
FROM THE EDITOR
We're all counting on those wealthy baby boomers--but will they really come? By Pam Daniel
STREET TALK
News and names to boost your civic I.Q.
Carol Tisch sleuths out the secret sources of local designers and picks a bouquet of vases, plus Jill Obrochta Dambro goes shelling.
What Lakewood Ranch's Plaza San Marco gets right--and wrong. By Richard Storm
Who knew? Our geezer gossip columnist turns out to be a Web whiz! Just look what he's doing on our magazine's new site.
LIMELIGHT
Rebecca Baxter snaps people and parties, and our "Social Detective" gets the scoop on doggie dining.
Kay Kipling's calendar of arts and entertainment, plus On Exhibit by Mark Ormond.
After you're diagnosed with breast cancer, what should you do? Su Byron offers smart advice.
Restaurant critic John Bancroft hits the Canvas (Cafe, that is) and breaks bread at C'est La Vie; plus chef Judi Gallagher makes cranberry ice cream.
NATURAL SELECTION
Our artist's sketchbook of Sarasota flora and fauna.