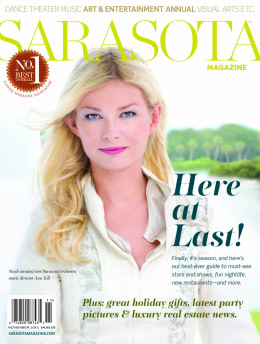 FEATURES
Arts editor Kay Kipling's guide to the must-see shows and stars in a jam-packed cultural season.
Cooper Levey-Baker scouts out five different scenes where the lights are low, the music is loud and locals kick up their heels.
Who doesn't love a drink at a funky Florida watering hole? Novelist Tim Dorsey toasts a pair of Sarasota classics.
New York Post theater columnist Michael Reidel gives you the lowdown on investing in a big Broadway show.
DEPARTMENTS 
The recession slammed arts groups all across the country. But for many Sarasota organizations, it's a different story. By Pam Daniel 
People, issues and events on our radar, including top tickets, Carol Tisch's shopping finds, chef Judi Gallagher's dish, Heather Dunhill's fashion IQ, party pictures--and more.
Sometimes life grants you a second act. Consider singer-actress Annie Morrison.
A look inside the Asolo Rep Costume Shop. Photography by Gene Pollux 
Ilene Denton reports on neighborhood and real estate news, plus design trends from Marsha Fottler.
Kay Kipling's calendar of the best arts and entertainment events for November.
Achieving a healthy mindset, new fitness tools and the truth about that paleo diet. By Hannah Wallace 
FOOD AND WINE  
John Bancroft applauds a refreshed Sandbar and downtown's brand-new Social. Plus: Sarasota's best Cuban sandwich and creative drinks from The Table's Ila Edwards.
A loo at our iconic Sarasota Opera House. Illustration by John Pirman