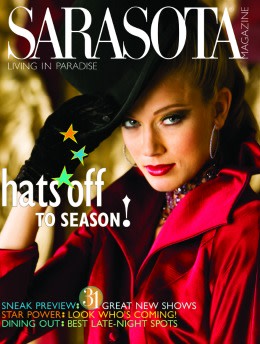 FEATURES
Su Byron stays up late to find great dining options for after the show.
Arts editor Kay Kipling searches out the most sizzling stars, intriguing shows and super deals of the 2008-09 arts season.
The Ringling's Circus Museum is the backdrop for a season's worth of evening wear.
A jet-setting bachelor alights in an Alinari retreat filled with his important--and eclectic--art collection. By Carol Tisch
Comic novelist Robert Plunket launches a new mystery series set right here in Sarasota.
DEPARTMENTS
By Pam Daniel
STREET TALK
News and names to boost your civic I.Q.
Richard Storm finds signs of life along downtown's Central Avenue.
Style editor Carol Tisch shops Gulf Gate Marketplace for jewelry, apparel and more, plus day planners you'll be happy to open.
The famous Florida detective novel takes a strange new twist with our own Mr. C.
LIMELIGHT
Rebecca Baxter snaps people and parties, and our "Social Detective" hides out at the Hermitage artists' retreat.
What's new and notable in real estate and design.
Shattered by his prostate cancer diagnosis, a husband and father finds hope at Sarasota's Dattoli Institute. By Su Byron
THE PAR SIDE
Our new golf columnist, David Grimes, plays The Concession--and tells.
John Bancroft discovers comfort and classics at St. Armands' Le Colonne and creative fare at Bradenton's Ezra, while chef Judi Gallagher whips up a sweet potato surprise.
CALENDAR
Kay Kipling's roundup of this month's arts and entertainment events, plus On Exhibit by Mark Ormond.
SENSE OF PLACE
Illustrator Regan Dunnick's fun map of the Ringling Museum.