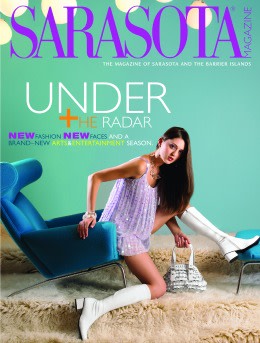 FEATURES
New faces and stages are shaking up Sarasota's arts scene. By Marty Fugate
What does it take to get a DUI in this town? We served up drinks and called in the police to find out. By Hannah Wallace
MOD SQUAD
It's a mod, mod world this fall. Photography by Peter Langone, styling by Jill Obrochta
For the Asolo's Michael Edwards, the world premiere of the musical A Tale of Two Cities is the best of times--and the worst of times. By Robert Plunket
Arts editor Kay Kipling scouts out the dozen plays, exhibitions and concerts you must attend this season.
DEPARTMENTS
FROM THE EDITOR
Pam Daniel's opening notes.
STREET TALK
News and names to boost your civic I.Q.
Carol Tisch sifts through Siesta Key Village's treasures and shares some pillow talk while Jill Obrochta finds fancy footwork and Wine, Women & Shoes.
Can historic Burns Square face the future without losing its charm? Richard Storm makes some suggestions.
Mr. C comes up with new rules for religion.
LIMELIGHT
Rebecca Baxter snaps people and parties, and our "Social Detective" is dazzled by donors at the Charity Register launch party.
Kay Kipling's calendar of arts and entertainment, plus On Exhibit by Mark Ormond.
Oh, your aching joints! Su Byron finds some fixes for sore knees and hips.
FOOD & WINE
Restaurant critic John Bancroft makes the scene at Fred's at Lakewood Ranch and Horse Feathers, and chef Judi Gallagher harvests butternut squash.
NATURAL SELECTION
Our artist's sketchbook of flora and fauna.