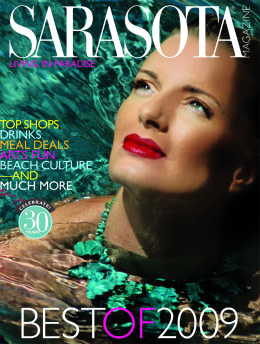 FEATURES 
Catch a colorful new wave of summer fashions. Photography by Mary McCulley 
Two hundred and eighty-four totally terrific restaurants, shops, experiences, bargains, hotspots, hotshots, hidden treasures and other winners in our annual contest.
The top three images in our photo competition capture the quintessential character of our city.
Crime, passion and high comedy continue in novelist Robert Plunket's new mystery series, set right here in Sarasota.
DEPARTMENTS 
In today's tough times, what keeps exceptional newcomers coming to Sarasota? By Pam Daniel 
Kay Kipling asks playwright Jason Wells about his addiction to the news and his brand-new work, premiering at the Asolo Rep this month.
Carol Tisch finds spring things on St. Armands and discovers a blooming garden of flower-themed jewelry.
Mr. C's latest obsession: Bravo's television hit, Real Housewives.
LIMELIGHT
Rebecca Baxter snaps people and parties, plus our newest "Fashion Statement."
Top neighborhoods, great deals and record sales in real estate, and eco-friendly home decor.
A designer's own great room welcomes as well as wows. By Carol Tisch 
John Bancroft finds the beef at Zak's Steakhouse and Five Guys, plus chef Judi Gallagher's delish green bean recipe
The onset of Parkinson's disease leads on patient-physician to a new world of alternative treatments. By Su Byron 
CALENDAR
Kay Kipling's roundup of this month's arts and entertainment events.
Illustrator Regan Dunnick's fun map of Mote Marine.