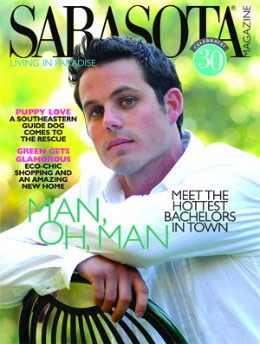 FEATURES
Seven of Sarasota's most eligible bachelors open up about life, love and that ever-intriguing subject of marriage.
Palmetto's Southeastern Guide Dogs helps the visually impaired return to life. Megan McDonald tells the story of one man and his new best friend.
Making environmental building history with a new modern cottage, right here in Laurel Park. By Carol Tisch
In Chapter 5 of comic novelist Robert Plunket's new mystery series, designer Timothy Spryke makes inroads into Sarasota society--but faces a fresh murder and lingering suspicions.
DEPARTMENTS
A cancer diagnosis strikes home. By Pam Daniel
The Sarasota Ballet's Logan Learned dances up a storm of critical acclaim.
Shopping green in Sarasota is easy--and glamorous. Carol Tisch reports on luxurious eco-friendly acquisitions.
Mr. C's personal farewell to long-time gossip columnist Marjorie North--and an era in Sarasota history.
LIMELIGHT
Rebecca Baxter snaps people and parties, and our "Social Detective" pries into the heady world of polo at the Sarasota Polo Club.
Top neighborhoods, great deals and record sales in real estate and eco-friendly home decor.
Feng shui on the beach. By Carol Tisch
CALENDAR
Kay Kipling's roundup of this month's arts and entertainment events, plus On Exhibit by Mark Ormond.
When a wound that would not heal wrecked a  veterinarian's career, a Sarasota center came to the rescue with a revolutionary new treatment. By Su Byron
John Bancroft finds dining is fine at downtown's new MoZaic, plus the catch at Captain Brian's and great bakery deals.
Illustrator Regan Dunnick's fun map of Whole Foods Market.