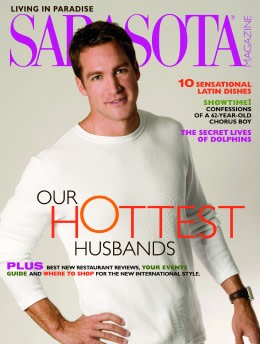 FEATURES
Su Byron seeks out the most sensational Latin dishes in town.
Move over, Matt Damon--nobody's sexier (or sweeter) than the winners of our highly competitive contest.
Our "Social Detective" Leslie Glass needed to pull off her daughter's Long Island wedding with style. She did it, with a little help from some Sarasota friends.
Mote's Randy Wells has been following Sarasota's dolphins for decades. here's what he--and they--can teach us. By Craig Pittman
Robert Plunket goes behind the scenes--and onstage--to see how the Golden Apple Dinner Theatre pulls off a production of Evita.
DEPARTMENTS
FROM THE EDITOR
A tribute to the longtime Sarasota writer--and friend--Bob Ardren. By Pam Daniel
STREET TALK
News and names to boost your civic I.Q.
Carol Tisch discovers international flair in furniture, clothing and more, right here on our doorstep.
Can a new design plan save Paul Rudolph's groundbreaking Riverview high buildings? By Richard Storm
Mr. C. parties with the Butcher of Broadway.
LIMELIGHT
Rebecca Baxter snaps people and parties, and our "Social Detective" scouts the symphony's salute to major donor Bea Friedman.
Kay Kipling's calendar of arts and entertainment, plus On Exhibit by Mark Ormond.
You are getting very sleepy...Su Byron opens our eyes to ways to improve our sleep habits.
John Bancroft applauds high drama at Maison Blanche and praises the Peruvian cuisine at El Warike, plus chef Judi Gallagher's tasty shrimp tempura.
NATURAL SELECTION
Our artist's sketchbook of Sarasota flora and fauna.