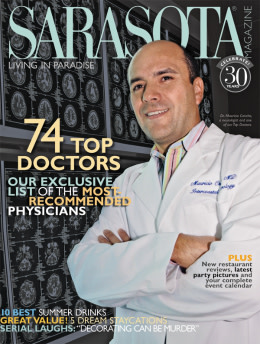 FEATURES
These cool summer drinks have made it made in the shade. By Su Byron
A beautifully situated Siesta Key home mingles Key West style with family comfort. By Ilene Denton
Crime, passion and high comedy continue in Chapter 8 of novelist Robert Plunket's new mystery series, set right here in Sarasota.
If you're looking for an excellent doctor, you've come to the right place, as we present Castle Connolly's exclusive annual listing of some of our area's finest. Plus, real-life patients and their medical dramas.
DEPARTMENTS 
The summer of the staycation is here, and Pam Daniel finds some great Sarasota getaways--and prices.
Hannah Wallace talks Twitter with young entrepreneur Janis Krums, of "Miracle on the Hudson" fame.
Richard Storm says the future looks fine at the innovative Suncoast Polytechnical High School.
Travel in style with Carol Tisch's finds in luggage, easy-to-ear clothing and more; plus shoes with attitude.
What's New, Pussycat? Our man-about-town meets Tom Jones--and interviews a cat.
LIMELIGHT
Rebecca Baxter snaps beautiful people and parties.
Top neighborhoods, great deals and record sales in real estate, plus eco-friendly home decor.
HGTV star Vern Yip tackles a Sarasota home with creativity--and a budget. By Carol Tisch
Golf columnist David Grimes plays The Meadows.
Sophisticated new diagnostic tools help stop a Sarasota man's life-threatening seizures. By Su Byron 
Critic John Bancroft discovers how the Bijou stays on top and finds good grub at Gecko's, while chef Judi Gallagher stirs up a yummy papaya salsa.
CALENDAR
Kay Kipling's roundup of this month's arts and entertainment events, plus a conversation with Tony winner Judy Kaye, in town this month in the Asolo's Rep's Souvenir.
Illustrator Regan Dunnick's fun map of Bayfront Park.