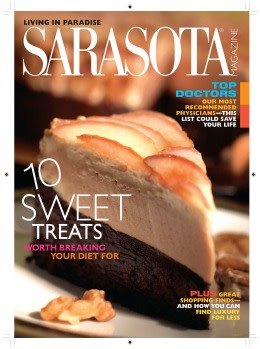 FEATURES
Su Byron brings home out city's most sumptuous sweets--great cakes, cookies, pies and other baked confections.
THE PROMISED LAND
A new book highlights the evocative Florida landscapes of an almost forgotten artist, "Highwayman" Harold Newton.
With a few smart strategies, you can enjoy luxury even in a down economy. Carol Tisch coaxes some savvy Sarasotans to share their secrets.
Searching for a highly recommended surgeon or an excellent internist? Check out this year's exclusive Castle Connolly listing of some of our area's finest physicians.
DEPARTMENTS
At a time when folks are cutting back, Pam Daniel asks what luxury would be your last to go.
News and names to boost your civic I.Q.
* Hot Seat
Carol Tisch scouts food and fashion at Shoppes at University Center and toasts stemware that sparkles.
Our garrulous gossip columnist gets his very own show--well, spot--on ABC7.
LIMELIGHT
Rebecca Baxter snaps people and parties, while our "Fashion Statement" features a Sarasota Film Festival Star.
EVENTS
Kay Kipling's calendar of arts and entertainment, plus On Exhibit by Mark Ormond.
VITAL SIGNS
Ouch! When your workout leads to serious pain, how can you bounce back? Su Byron investigates sports injuries.
John Bancroft finds perfection at Pino's and changes at the Lido Beach Grille, plus chef Judi Gallagher serves up yummy watermelon and tomato skewers.
Our artist's sketchbook of Sarasota flora and fauna.