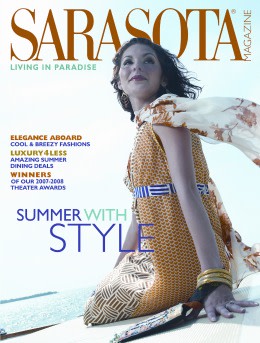 FEATURES
Su Byron searches out vegetarian dishes so good you'll never miss the meat.
With a season that included Broadway-bound A Tale of Two Cities, critic Kay Kipling finds much to honor in her annual theater awards.
Who says artists can't afford to live in Sarasota anymore? Our Real Estate Junkie, Robert Plunket, discovers some great choices in the current market.
BREEZY DOES IT
Breezy summer styles take to the sea. Photography by Gary John Norman
A panel of experts analyzes what the economic slowdown will mean for the region. Edited by Pam Daniel
DEPARTMENTS
A fond farewell to our longtime leader, Dan Denton, who's leaving us to start a new venture. By Pam Daniel
News and names to boost your civic I.Q.
* Hot Seat
Carol Tisch finds youthful energy and celebrity fashions at the expanded Westfield Sarasota Square mall--and opens up a world of chic umbrellas.
Our in-house political pundit sets the record straight about the HBO movie Recount and his never-before-revealed role in the 2000 presidential election.
LIMELIGHT
Rebecca Baxter snaps people and parties, and we see our "Fashion Statement" at downtown's White on State event.
Kay Kipling's calendar of arts and entertainment, plus On Exhibit by Mark Ormond.
Think you know all about skin cancer? Su Byron presents some compelling new reasons to practice safe sun.
John Bancroft delivers a special "Good Deal" summer edition with three outstanding prix fixe menus, plus chef Judi Gallagher's yummy avocado dip.
Our artist's sketchbook of Sarasota flora and fauna.