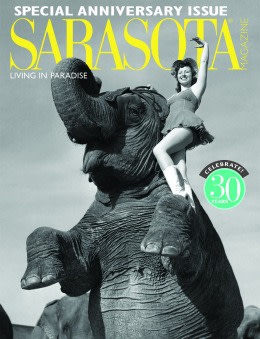 FEATURES
Su Byron toasts the New Year with 10 great new drinks from local restaurants.
On our magazine's 30th anniversary, senior editor Robert Plunket reflects on 10 moments that shaped the Sarasota of today.
After 26 years, an award-winning Carl Abbott design remains the ultimate beach house. Ilene Denton tells us why.
Some of the 20th century's best photographers found inspiration in Sarasota's beaches, circus history and quintessential tourists. Just take a look.
Meet seven young Sarasotans who will change the world. By Ilene Denton
Our all-time favorite party pictures bring back high times and heartfelt memories. Photography by Rebecca Baxter and Robert Castro
In Chapter 3 of Robert Plunket's new mystery series, hero Timothy Spryke designs for a Van Wezel superstar--and faces tough questions from the cops.
DEPARTMENTS
It's a new Sarasota all over again. By Pam Daniel
Carol Tisch scopes out the best new stores and makeovers and shops for kids.
The more things change. . .a vintage Mr. C column proves that some real estate truths are forever--and funny.
LIMELIGHT
Rebecca Baxter snaps people and parties, and our "Social Detective" finds the secret ingredient in cooking legend Marcella Hazan's success.
Banking expert and part-time Sarasota resident Bill Isaac on the economy, the bailout, and what lies ahead. Interview by Terry O'Connor
The niftiest neighborhoods, great deals in residential listings, eco-friendly home decor and the best of "Real Estate Junkie."
A contemporary parents' retreat for this month's Boys and Girls Club Showhouse.
CALENDAR
Kay Kipling's roundup of this month's arts and entertainment events, plus On Exhibit by Mark Ormond.
Racing the clock to survive pulmonary hypertension. By Su Byron
Our new golf columnist, David Grimes, plays University Park.
John Bancroft delights in creative cuisine at Libby's, while chef Judi Gallagher warms you up with Mexican hot chocolate.
Illustrator Regan Dunnick's fun map of Pinecraft.