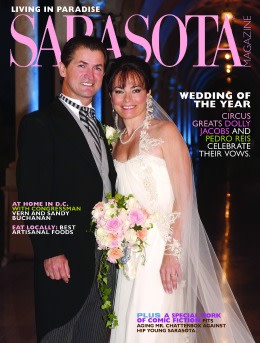 FEATURES
HELLO, CIAO, BONJOUR, HOLA, SARASOTA!
Meet a dozen diverse new denizens of our increasingly international city. Photography by Don Guy
Ilene Denton visits Congressman Vern Buchanan and his wife, Sandy, in their newly renovated home on Capitol Hill.
Circus Sarasota co-founders Dolly Jacobs and Pedro Reis tie the knot in a ceremony that celebrates their love for each other and our city's circus heritage. Story by Kay Kipling, photography by Barbara Banks
Old and new Sarasota clash with hilarious results as our aging gossip columnist tries to break into the hip young crowd.
Yes, you can eat locally, with our guide to the most delectable homegrown foods in town. By Su Byron
DEPARTMENTS
FROM THE EDITOR
Boomer mothers and their daughters tell each other everything. Or do they? By Pam Daniel
STREET TALK
News and names to boost your civic I.Q.
Carol Tisch scouts out San Marco Plaza and reports on other retail news, while Jill Obrochta finds patent leather is prime.
Style maven--and Paris' mom--Kathy Hilton meets a makeover challenge in Mr. C.
LIMELIGHT
Rebecca Baxter snaps people and parties, and our "Social Detective" applauds the Arts Council's awards night.
Kay Kipling's calendar of arts and entertainment, plus On Exhibit by Mark Ormond.
Su Byron gets to the heart of good cardiac health.
John Bancroft finds a tasty berth at Marina Jack and dives into Ocean Star's sushi, plus Judi Gallagher's savory potato leek soup.
NATURAL SELECTION
Our artists's sketchbook of Sarasota flora and fauna.