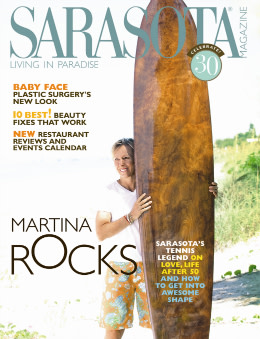 FEATURES
Terrific treatments to keep you looking and feeling great. By Su Byron
City commissioner Kelly Kirschner pens the story of his premature son's struggle for life.
From Madonna to Sarasota socialite, there's a whole new look to plastic surgery. By Su Byron
For noted designer Robert Stuffings, less is truly more in his quietly elegant Longboat Key condominium. By Carol Tisch
How tennis superstar (and Casey Key resident) Martina Navratilova stays young, fit and vital--and how you can, too. By Hannah Wallace
In Chapter 4 of comic novelist Robert Plunket's new mystery series, Sarasota's real estate crisis hits home for designer Timothy Spryke.
DEPARTMENTS
Let's get organized! By Pam Daniel
News and names to boost your civic I.Q.
Hip finds in the Rosemary District, plus beauty products for the person on the go. By Carol Tisch
Good dog! Mr. C's naughty pug Pee Wee goes to obedience school.
LIMELIGHT
Rebecca Baxter snaps people and parties, and our "Social Detective" peeks inside the mansion that tycoon Powel Crosley built.
The niftiest neighborhoods, great deals in residential listings, eco-friendly home decor and the best of "Real Estate Junkie."
A Longboat Key pool house is as bright and lush as the gardens around it. By Carol Tisch
CALENDAR
Kay Kipling's roundup of this month's arts and entertainment events, plus On Exhibit by Mark Ormond.
A new cardio screening program at Sarasota Memorial proves a lifesaver for a local fitness trainer. By Su Byron
John Bancroft craves Cafe on the Bayside's tasty traditions, and chef Judi Gallagher offers up the foods of love.
Golf columnist David Grimes plays North Port's Heron Creek.
Illustrator Regan Dunnick's fun map of St. Armands Circle.