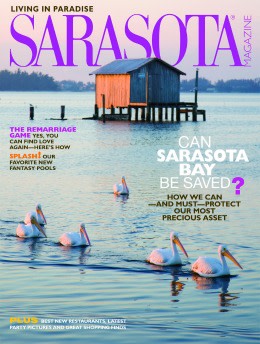 FEATURES
Years of pollution and development have dimmed the sparkle of Sarasota' beautiful bay. Can we bring it back? By Craig Pittman
How does a curator choose the art he exhibits? While Selby Gallery's Kevin Dean combs the studios and galleries of New York City, Kay Kipling takes notes.
WAVE WARRIORS
For these athletes, the path to glory is the Gulf of Mexico. Photography by Greg Brown
Relationship expert Susan Kelley on how this all-important competition is played--and won--in Sarasota.
Charlie Huisking pens a Valentine salute to his spirited 94-year-old mother.
DEPARTMENTS
FROM THE EDITOR
Love stories from the second time around. By Pam Daniel
STREET TALK
News and names to boost your civic I.Q.
Carol Tisch finds new stores and longtime favorites on Upper Main, and Jill Obrochta sees red in shoes, lingerie and more.
Do the new buildings on our college campuses make the grade? Richard Storm decides.
Our social critic takes aim at America's Great Wall and presidential politics.
LIMELIGHT
Rebecca Baxter snaps people and parties, and the Sarasota Ballet's opening night brings our "Social Detective" to her feet.
Kay Kipling's calendar of arts and entertainment, plus On Exhibit by Mark Ormond.
Should you have a facelift or something less invasive? Su Byron finds the choice depends on your age.
John Bancroft dines by the numbers at 5-One-6 Burns and Mattison's 41, plus chef Judi Gallagher serves up spaghetti squash.
NATURAL SELECTION
Our artist's sketchbook of Sarasota flora and fauna.