Article
DENTAL IMPLANTS - by Dr. Burr Bakke
WORLD CLASS DENTISTRY Dr. Burr Bakke is a fellow in the American Academy of Implant Dentistry and the International Congress of Oral Implantology, and a member of the American Academy of Implant Dentistry. He has been practicing dentistry for 29 years.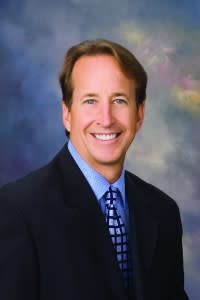 WHAT IS "24-HOUR TEETH" TECHNOLOGY?
24-Hour Teeth technology is an innovative technique in the dental implant field. The implants are placed, followed by a fixed set of teeth within 24 hours. The fixed teeth are in place while the implants heal for approximately three months. After the healing is complete, a final set of full porcelain fixed teeth is placed.
"Implants usually help the digestive issues that arise in those who wear dentures."
I WAS TOLD I WOULD NEED BONE GRAFTING TO GET DENTAL IM-PLANTS. IS THERE ANY WAY TO AVOID GRAFTING?
Yes! The 24-Hour Teeth technique was invented more than 15 years ago specifically to simplify placing dental implants and eliminate or significantly reduce the amount of bone grafting needed. By strategically placing four to six dental implants, we can avoid bone grafting in well over 90 percent of all situations. This way, most people are good candidates for treatment.
WILL THIS CHANGE WHAT I CAN EAT?
Absolutely! Once the implants are healed and the final appliance is in place, the biting force is stronger than natural teeth. You can eat the foods you have been avoiding. Chewing effectiveness increases and many of the digestive issues that arose from the inability to completely chew food are eliminated. When the upper denture is eliminated, taste buds that were hidden under the plastic of the denture are now exposed. Eating becomes enjoyable again. Imagine eating an apple or corn on the cob without tasting the glues that held the denture in, and no more embarrassing slippage of the denture during a nice meal with friends. Now, that's change!
DO THE TEETH LOOK AND FEEL LIKE THE DENTURES I HAVE NOW?
Only if that is what you want. The great thing about this technology is that we can customize your smile to your wants, needs and desires of appearance and function. We can shape and sculpt the teeth until you say, "That's perfect!" Only at that point do we make the final porcelain teeth. You will also get to "test drive" a set of teeth that will be used for the scanning process that makes your final porcelain teeth.
ABOUT Places and restores implants for optimal health, function, longevity and seamless start-to-finish consistency.
CONTACT (941) 914-9342
LOCATION 3951 Swift Road Sarasota, FL 34231