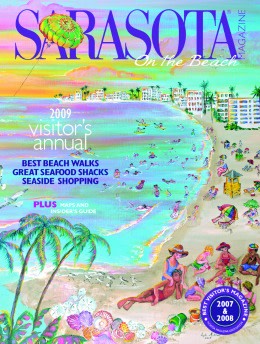 FEATURES
Our favorite Florida classic foods. By Su Byron
Come along while Sarasota parks and recreation director John McCarthy walks every one of our 35 miles of beaches--in a single week.
BEACHCOMBER'S SPECIAL
Our editors compile a sampling of shore lore, from the best sunset drink to a meditation on people who look better in bathing suits than you do.
SAND IN OUR SHOES
Why Sarasota is the best beach town ever. By Robert Plunket; photos by Phillippe Diederich
Food writer John Bancroft nets the catch of the day at some of our favorite seafood spots.
A Boca Grande couple designs a romantic island-style home.
In Chapter Two of novelist Robert Plunket's new mystery series, hero Timothy Spryke makes a new friend---and a shocking discovery.
DEPARTMENTS
Pam Daniel picks the 10 things every Sarasota visitor must do.
BOUTIQUE
Carol Tisch brings back beach goodies from a shopping trek covering Anna Maria Island to Siesta Key.
LIMELIGHT
Rebecca Baxter snaps people and parties, and our "Social Detective" investigates the mysterious allure of our beaches.
SENSE OF PLACE
Regan Dunnick's fun map or Siesta Key Village.