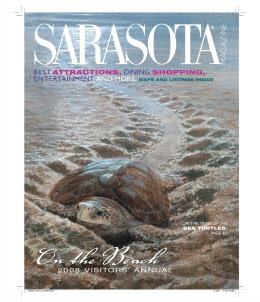 FEATURES
10 BEST
Su Byron finds dream Sarasota tours for the adventurer in us all.
Robert Plunket on celebrities whose lives have been changed by a visit to Sarasota.
One of the world's pre-eminent wildlife artists takes up the cause of Sarasota's endangered sea turtles. Story by Kristin Joyce, photography by Don Guy
Famed designer Adrienne Vittadini fills her new beachfront condominium with light and grace.
Our food writer picks his favorite seaside restaurants--and tells you what to order with your view. By John Bancroft
KING OF THE THRILL
A revealing interview with mega-selling author--and part-time Casey Key resident--Stephen King. By Christopher Lehmann-Haput and Nathaniel Rich
DEPARTMENTS
FROM THE EDITOR
Why Florida's beach guru loves our city's shores.
Ready to create your own coastal cottage? Carol Tisch leads and acquisition expedition.
LIMELIGHT
Rebecca Baxter snaps people and parties, and our "Social Detective" sees red at the Saks Mistletoe Ball party.
NATURAL SELECTION
Our artist's sketchbook of Sarasota flora and fauna.